Over 8 in 10 customers are likely to shop with companies that get loyalty programs right, yet most retailers aren't serving them well enough to realize this potential.
We analyzed how some of the best referral programs in the world win customer loyalty and hearts, so you can get some ideas and turn your store into one of the most successful ones.
Amazon, one of the largest retailers in the world, needs no introduction. Its membership program, Amazon Prime, crossed the 200 million member mark in 2019, according to Statista.

What Amazon Prime's Loyalty Program Offers
Fast and free delivery options.


Free access to a long list of products, including TV shows, movies, games, songs and books.



Savings across many key life areas, including exclusive deals, early access to some deals that non-members get access to, Alexa Voice deals, baby product deals and Whole Foods grocery deals.
Is it a Free or Paid Loyalty Program?
Paid. It costs $12.99/month, plus applicable taxes. Discounts are available for students and government assistance receivers.
What Makes this Loyalty Program Work
The average Amazon Prime member buys almost twice as many times a year and spends over double a year than a non-member. Here's what makes this loyalty program work:
It solves two of ecommerce's biggest challenges – the cost of shipping and the long wait time for items to arrive. Due to Amazon's deep resources, it's able to create the unique advantage of immediate satisfaction at no cost (excluding the monthly membership cost, of course), that most stores can't compete with. While Amazon's deep pockets have been critical to creating this advantage, the main reason it works is because it put customers' needs first and looked for solutions that closed gaps in the market.


The fact that it's a paid loyalty program drives immediate revenue for the company, helping to generate a budget to keep serving customers better and better, even if all some members do is consume the free entertainment the program offers. The low monthly cost makes it easily worthwhile for members, since consuming this entertainment alone would likely save them money. Yet many find it easier to shop when they don't have to worry about shipping costs or planning ahead for delivery.



Even a giant like Amazon emphasizes brand partnerships (this time, with Whole Foods) as one of its main benefits. Most companies can't be

everything

for their customers, but they can create cross-promotional partnerships with companies that complete their desired customer experience.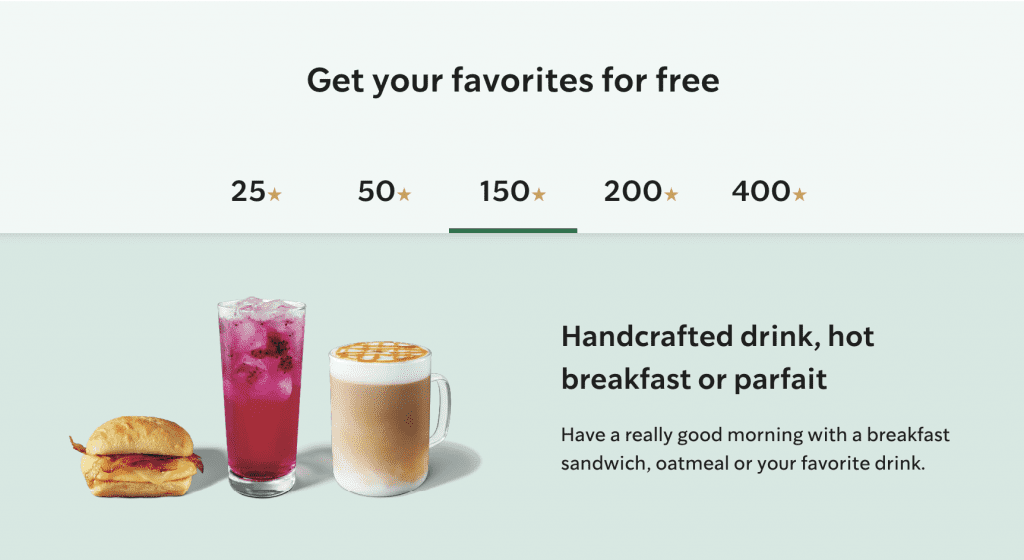 What Starbucks' Loyalty Program Offers
When you join

Starbucks' loyalty program

, you start getting freebies, such as coffee and tea refills and birthday treats.


Convenience. You can pay in advance and pick up your order from the store, curbside or drive-through.



It's a tiered program. The more you buy at Starbucks, the more stars you gain, the more rewards you can get. Each dollar you spend is worth $1-3, depending how you spend it. Plus, the program's app offers challenges and personalized ways to earn additional stars.
Is it a Free or Paid Loyalty Program?
It's free for the first year (and you get some sign up bonuses). It's $49/year starting your second year.
What Makes this Loyalty Program Work
The program targets its most valued customers, those who already have

large order

and

lifetime values

. You need to keep buying to get the really worthwhile rewards. You can start redeeming rewards at $25, so you can let the program gradually turn you into a fan even if you're not a mega-spender. However, an occasional

$2 espresso drinker

will likely not benefit from the program, as stars expire after 6 months.


Starbucks makes it very easy for you to increase your lifetime value further. For example, if you preload money to your app, you get 2 stars per dollar instead of the 1 star you get when you pay as you go. Once the money is already in the account, it's easier – logistically and psychologically – to make a purchase.



When you use the Starbucks Rewards Visa credit card, you get 3 stars per dollar spent (triple the "pay as you go" reward), whether you buy at Starbucks or elsewhere. This cross-promotes an additional company product, as well as its partnership with a wide range of companies.
Sephora offers beauty and personal care products from thousands of brands, and has 25 million loyalty members. "A significant amount of sales and growth comes from its top tier $1,000+ Rogue members," reports Forbes in an interview with Allegra Stanley, Sephora's VP and general manager of loyalty, referring to customers who spend more than $1,000 a year with the brand.

What Sephora's Loyalty Program Offers
Every dollar you spend as a Beauty Insider (a member of

Sephora's loyalty program

) adds one point to your "beauty bank." You can then choose products or experiences from the Beauty Bazaar, depending on how many points you have.


Sephora reveals new rewards every Tuesday and Thursday.



The more customers spend in a calendar year, the higher their tier and the better rewards they can get.
Is it a Free or Paid Loyalty Program?
What Makes this Loyalty Program Work
Constantly unveiling new rewards keeps customers engaged and encouraged to keep racking up points (meaning, keep shopping) on an ongoing basis.


Sephora's loyal customers don't just get your regular discounts, free shipping and birthday gifts. They also get to attend immersing experiences, including meet and greets, trips and other events that build the emotional connection with the brand.



The more you spend in a year, the more pampered you get. For example, the highest tier, Rogue, gets you free shipping with no minimum spend (unlike other tiers), first access to products, and exclusive events that other members don't have access to.
As Europe's largest frequent flyer and award program, Miles & More, a Lufthansa program, collaborates with over 200 companies around the world.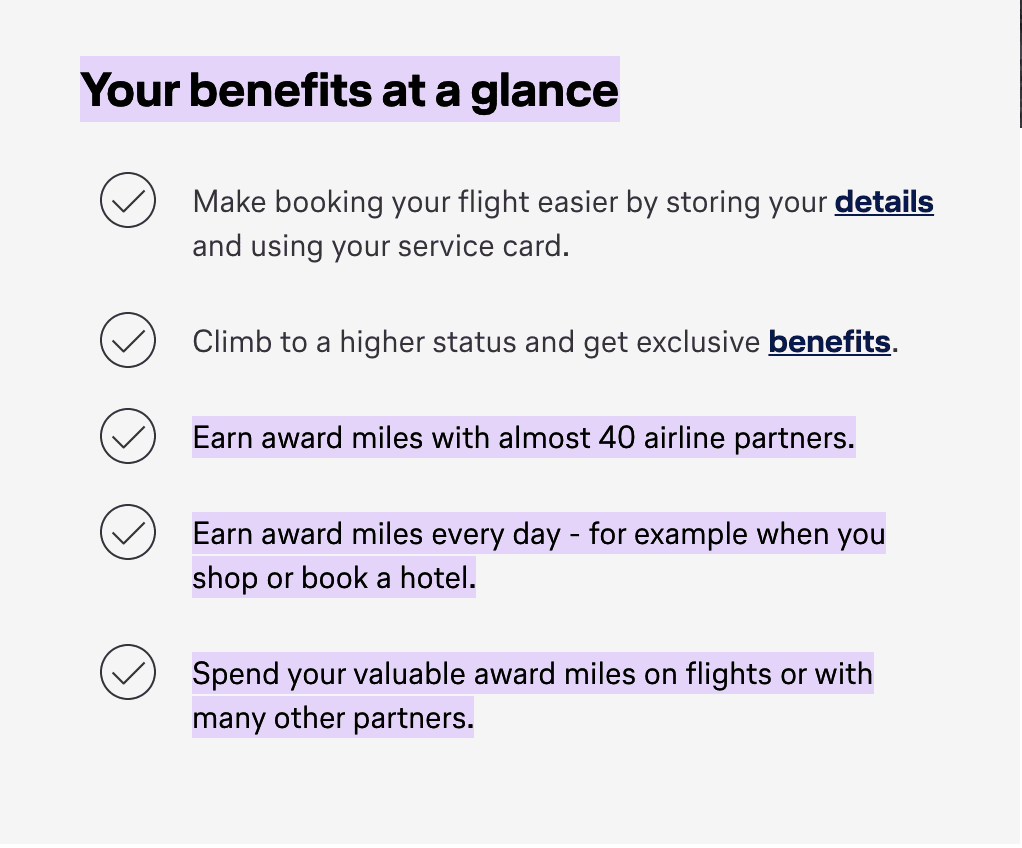 What Miles & More's Loyalty Program Offers
Use your award miles in more than 40 airlines – and gain a better experience, too.

Miles & More's loyalty program

members get simplified booking and check-in options.


Gain non-flight benefits. This can help you book hotels and cars on your travels, or serve you in non-travel life aspects.



You can transfer your miles to friends and family, or donate your miles to the company's corporate social responsibility program, which supports disadvantaged children and youth across the world.
Is it a Free or Paid Loyalty Program?
What Makes this Loyalty Program Work
The company's widely spread partnerships give customers lots of flexibility, serving a great variety of needs.


It's easy to win rewards. Obviously, being a frequent flyer helps, but you can gain additional rewards by shopping with partner companies that serve all life areas. Plus, you can convert points from other programs into award miles.



It's easy to use your rewards. Again, the most obvious way is to fly, but you can also redeem rewards as other merchandise partner companies, transfer your rewards or donate them. Either way, you don't feel like you're wasting them, so you're likely to keep accumulating them.
Our client VICI Collection launched its clothing boutique in 2012, in the aftermath of the recession. Founded by working women, the intention behind the brand has always been to boost confidence for all kinds of women. However, keeping track of its data, VICI discovered sales decreased every weekend in 2018. Its team decided to take action.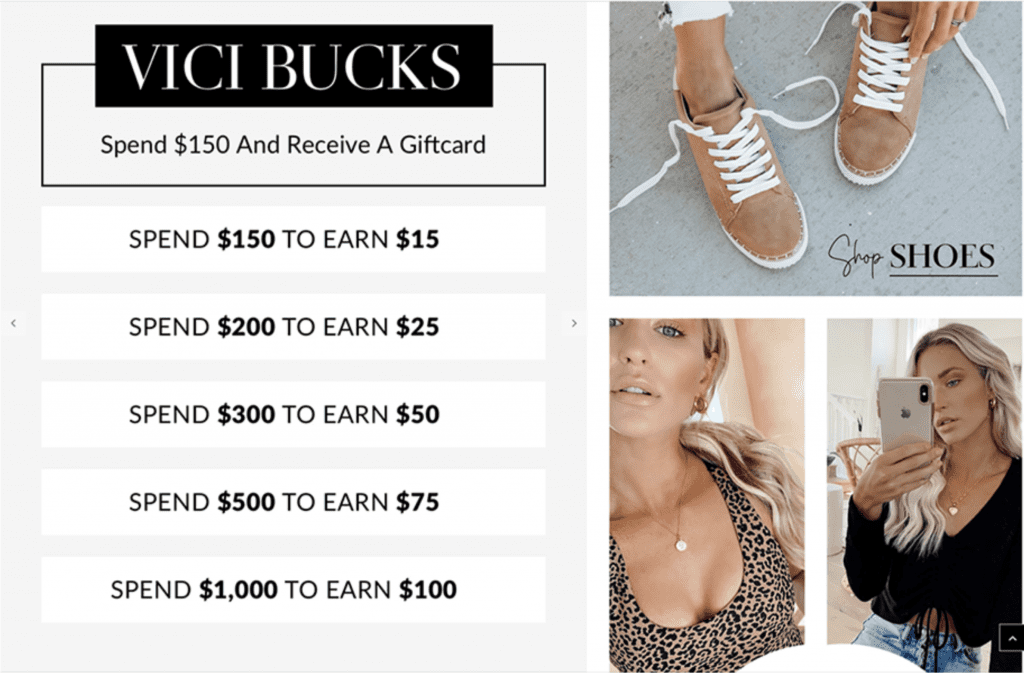 What VICI Collection's Loyalty Program Offers
Called the VICI Bucks program, it offers weekend-only promotions. These sales increased the revenue the company generates every weekend.


During these promotions, customers earn store credit, which they then use in future sales. Customers must spend at least $150 to earn store credit.



Credits are tiered – the more you spend, the more you earn. The highest tier – spending $1,000 – provides a $100 store credit.
Is it a Free or Paid Loyalty Program?
What Makes this Loyalty Program Work
The weekend promotions give customers a reason to check out the store at unusual times for them. In addition, if a customer desires a product, but its price is too high, she might check the weekend sales instead of shopping elsewhere.


The fact that these promotions happen every week encourages customers to keep logging in, increasing brand affinity and making it part of customers' weekend routines. This strategy turns the least profitable days into loyalty and revenue drivers.



The combination of weekend promotions and the ability to earn store credit on top of it has increased brand loyalty, with store credit redemption rates rising to 62%.
How to Make Your Loyalty Program One of the Best
Every loyalty program is unique, because every company and customer base are unique, but as you can see, some themes tend to repeat themselves among the best loyalty programs. To follow in their footsteps, look to close underserved gaps in your industry and serve your customers better than competitors, offer tiers to encourage customers to keep engaging with you, and partner with complementary companies to enhance their experiences.
Just as importantly, align your program with your overall business goals. Creating a holistic brand experience is one of the ultimate ways to win customers' hearts and grow your company.