We are proud to be part of the elite group of tech companies – handpicked by  Shopify Plus – to provide merchants with valuable solutions to accelerate their growth. Shopify Plus is the best choice for the biggest D2C brands in the world. Being part of this exclusive community emphasizes the importance of advanced Store Credit and Gift Card solutions.
Unleash the Power of Gift Cards at Scale​
Over the last couple of years, we have developed a unique approach to Customer Engagement. The Rise.ai platform is designed to manage your brand's re-engagement activities – Loyalty cards, Rewards, Referrals and Refunds.
Over 700 Shopify Plus merchants from 22 countries all over the world already choose Rise.ai's solutions for their brands.
In the last year, our solutions generated $87M in revenue for Shopify Plus merchants from the sale of Rise.ai powered gift cards. Additionally, Shopify Plus merchants issued over $213M in store credit with an average redemption rate of 28%, and total revenue of $284M.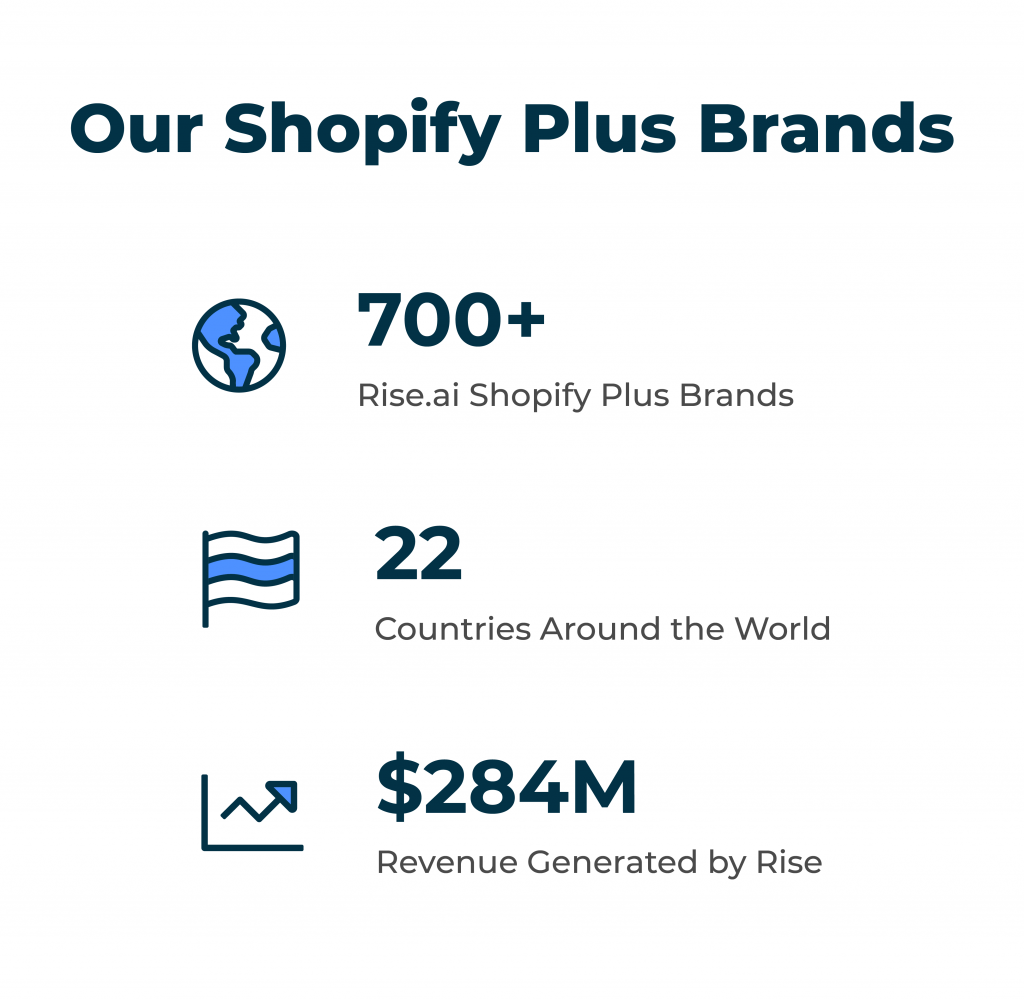 We are driven to provide the solutions that will help our merchants achieve their goals. For this reason, we are constantly developing new services and enhancing our current features to address the ever-changing eCommerce landscape.
In the past year, we have partnered with Google, Facebook and Instagram, enabling our customers to promote their Gift cards across social media channels.
Together with Shopify Plus brands, we can push the boundaries and keep finding innovative ways to help brands and merchants grow.
Shopify Plus Certified App Partners Program
The Shopify Plus Certified App Program was built to highlight industry-leading apps that solve complex problems that are specific to Shopify Plus merchants.
Each app is formally reviewed by the Shopify App Review Team to ensure it meets the advanced requirements in performance, security, privacy, and support.
Shopify Plus app partners help merchants solve the most important challenges they face in their businesses every single day. As merchants scale and upgrade to Shopify Plus, their needs become more complex and specific, creating a unique opportunity for partners to fill the gaps and create a strong foundation for growth and expansion.
The Shopify Plus Certified App Program allows us to push the boundaries of commerce.
"The Shopify Plus Certified App program is designed to meet the advanced requirements of the world's fastest growing brands. We're happy to have Rise.ai in our program, bringing their insight and experience in Loyalty & Rewards to the Plus merchant community." Loren Padelford, GM Shopify Plus.
Rise.ai joins the Certified App Program with other category-leading developers recognized for cutting-edge solutions and their commitment to brand development.
"This partnership will allow Rise.ai to continue to grow and give our merchants the most advanced tools to maximize customer engagement. Especially during these times, Rise.ai's goal is to help forward-thinking brands to offer advanced branded currency solutions " Yair Miron, Founder and CEO at Rise.ai