The last couple of months were different than anything we ever dealt with. The quick-change in our day-to-day life, the quarantine, and the closed stores. All together led to a huge effect on the global economy. People changed the way they consume, they started to purchase online and focused on different products. And the Gift Card sales went through the roof!
Trends in Gift Cards Sales
Since March, when the Coronavirus hit Europe and the US, we noticed three big trends in the global gift card industry:
Buy Local

– Small businesses are the backbone of our society, people want to be sure that their local stores will stay open after this pandemic is over. They buy gift cards to show their solidarity and to make a promise – "we believe you will survive this crisis and we will buy from you in the future".



Donations

– people chose to support their local community and donate to their favorite local shops. This way they give cash flow to local businesses and maintain their sustainability through the hard times.

 

Corporate Gift Cards

– Corporates all over the world felt the need to help small businesses and chose to do it by buying gift cards from local stores to give to their employees.
With those trends, we discovered a big increase in gift card sales everywhere. We took a dive-in and conducted an independent survey of over 1,800 stores to learn more about the different changes in the gift card industry and came up with some new insights.
The change in gift cards sale is not just a local thing, there is an increase in sales all over the world. With an increase of 141% in the US market, 111% in Australia, and a 97% increase in the UK.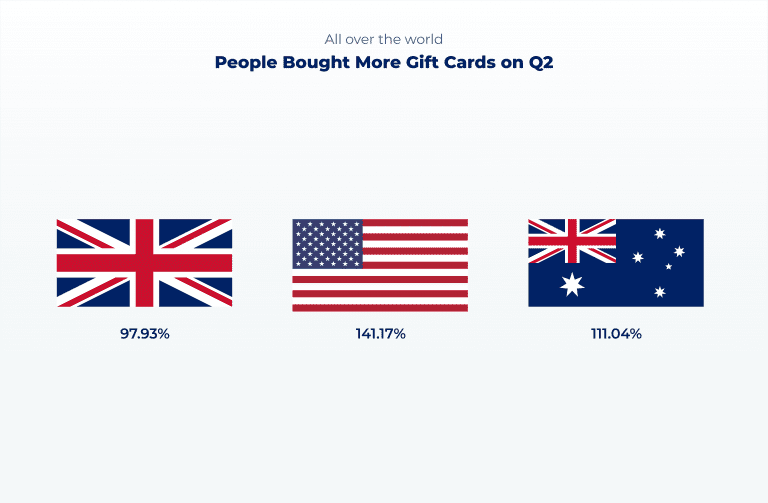 Gift Card Sales Went Through the Roof
In Q2, at the peak of the first wave of COVID-19, people bought thousands of gift cards – a growth of 121% from last year's sales. When looking at the revenue of stores from gift cards sales, in Q2 stores have increased their income from gift cards by over 50%
This growth is not a part of the natural retailer's growth, as we see a growth of 7.72% in Q1.
Any eCommerce merchant knows, most sales are at the end of the year around the holiday season. Q4 is also the time when most people buy gift cards for their friends and family. Online purchase patterns have changed and this year Q2 gift card sales were as high as 2019 Q4 sales.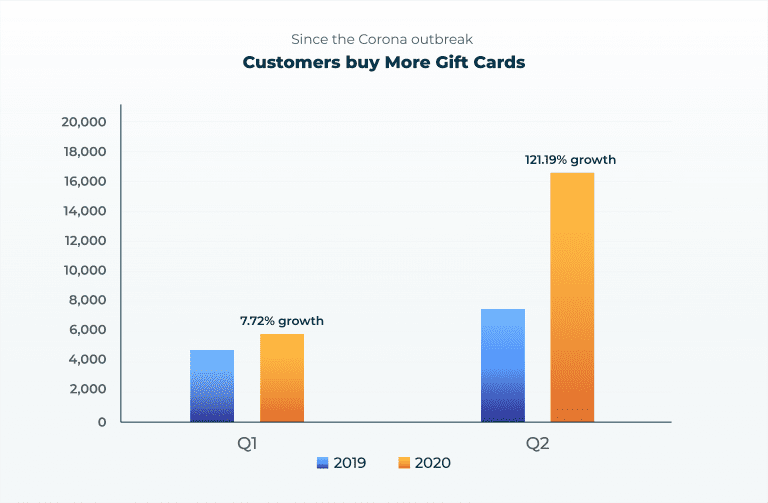 Merchants Rely on Gift Cards
Gift card sales are growing rapidly in the last couple of years and have become one of the strongest products in every store.
At the beginning of the COVID-19 outbreak in Europe and the US, global supply chains got stuck. The only product that could be sent online was digital gift cards. Many merchants sold only gift cards in their store and others relied on them like never before. As a result, we see a peak of 7.27% in the percentage of gift card orders from total store orders. 
After the initial shock, merchants found new and creative ways to sell their entire store collection, and gift card sales returned to their place around 3.5% of total store orders.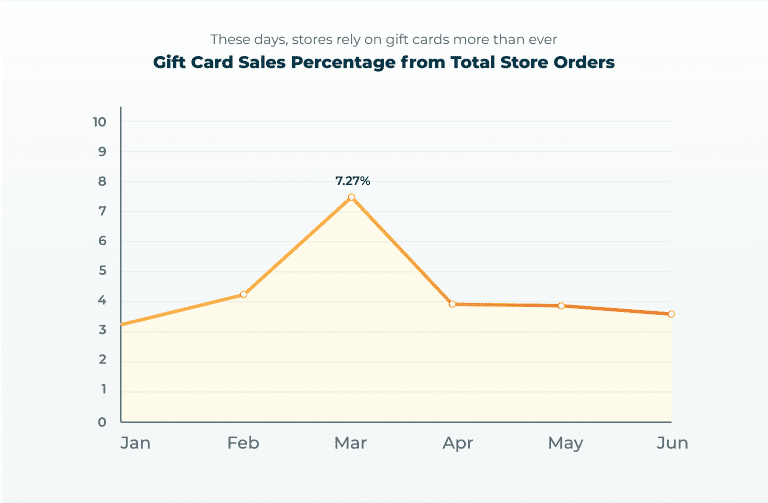 When looking at the monthly change, Since March we see rapid growth in sales, a clear peak in May with a change of over 130% in sales. Followed by a strong decrease in June. 
This correlates with a growth of 127% in store revenue from gift card sales in May.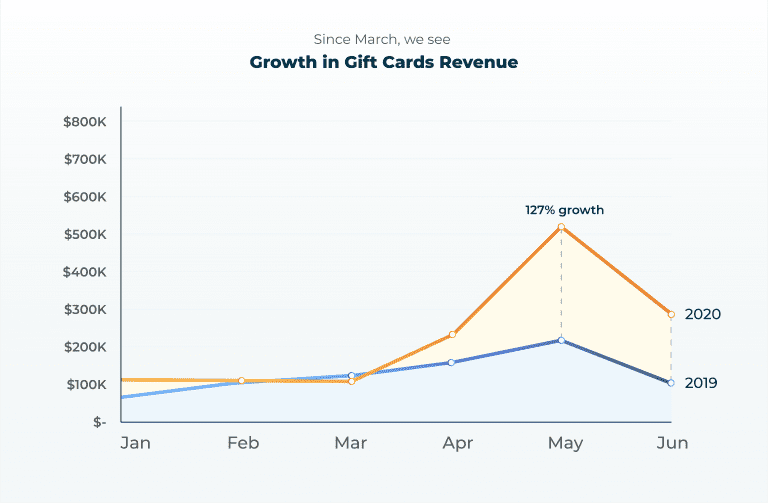 So What Changed?
As we see it there are two main explanations for the change,
The optimistic explanation

– places all over the world started to re-open, people could come back and buy at their favorite shops. No need for online gift cards since now you can see your family and friends in person.

Things are starting to get back to normal

 

The pessimistic explanation

– the unemployment rate is high and not going to change soon, more people don't have the disposable income to use on gifts and presents.

The world has changed and it won't come back soon.
But there might be a third option. There is no decline in June at all. But a natural fall in sales in June. As you can see in 2019 there is a peak in May and a decent June. 
When looking at the numbers, in May 2020 people bought X2.35 times more gift cards than in May 2019 and X2.3 in June 2020.
And when looking at the income from gift card sales, you can see that the growth in June is even bigger than in May – the growth in store revenue in June is an astonishing 146%.
2020 is half over and so far it is not what we expected at all.
What will happen in the next couple of months depends on how we will come out of the Corona outbreak and if there will be a second wave worldwide as we already see in some countries.
Neomi Avron, Rise.ai's Chief analyst: "Gift card sales are and will continue to dominate the eCommerce industry. We believe that Q4 will be one of the strongest times for eCommerce in general and gift cards particularly. In this holiday season, we won't hear about thousands of people waiting in line outside of Walmart before Black Friday. Instead, we expect to see a major shift, even steeper than what we've seen before, to online sales".