45% of Americans Will Be Buying a Mother's day gift cards this year. Here are 8 Ways to Ensure They will buy your gift cards!
Mother. Mom. Mamá. Mamma. Maman. Wherever you are around the world, Mother's Day is fast approaching – starting in the UK on March 22 2020, and peaking in the US (and many others) on May 10th 2020.
In the USA, one day brings together over 85% of Americans to express their appreciation to their mother.
Often these powerful emotions are channeled into physical expressions of thanks: cards, flowers and a myriad other types of gifts.
The numbers show it – Mother's Day is the second biggest retail holiday after the winter holiday season.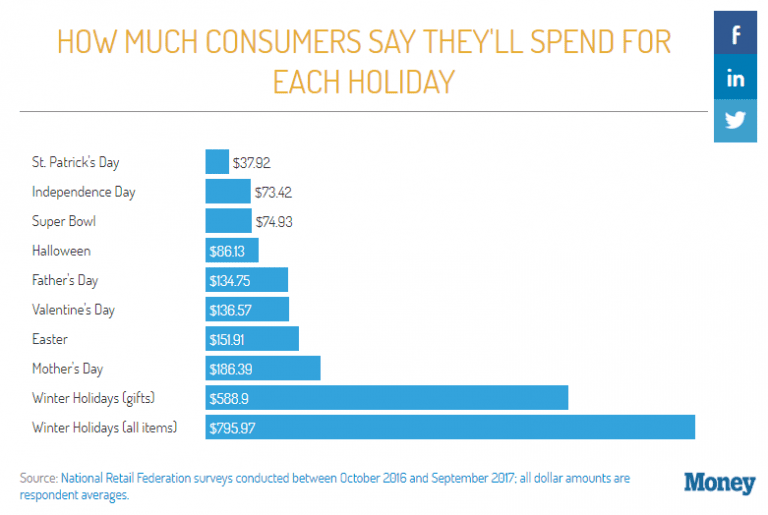 Mother's Day Gift = Gift Cards
Flowers and cards still top the list of gifts to purchase for mom, but Gift Cards aren't far behind.
45% of American shoppers are planning on purchasing Gift Cards for their moms this Mother's Day. Resulting in spending a total value of $2.5 billion!
While Gift Cards used to mean a white plastic card with a store logo. Today, online Gift Cards are gaining more and more traction for a whole slew of reasons.
First, keep in mind that 20% of Americans live more than a couple hours drive away from their parents.
If your customers won't be seeing their mothers in person for Mother's Day., they will probably won't be able to hand her a physical card.
Even if they're traveling to see her, bringing a Gift Card from where they live might not help. She might whouldn't be able get there herself to make a purchase.
Online Gift Cards are purchasable from everywhere, sendable to everywhere and redeemable from everywhere.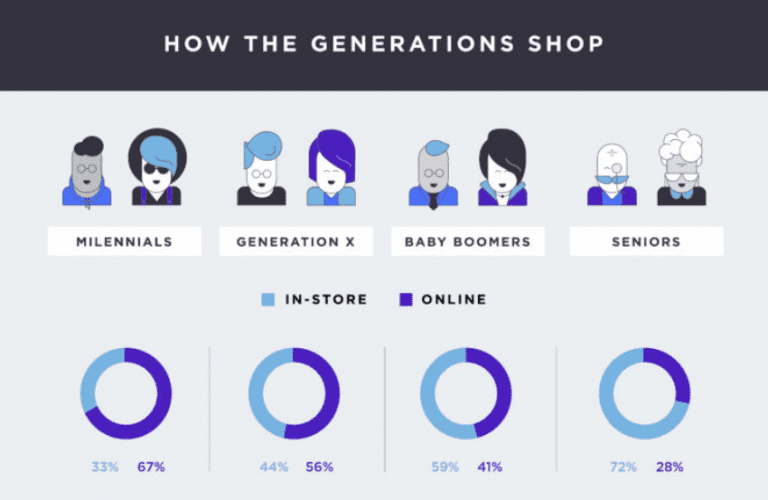 Although brick-and-mortar Gift Cards are an excellent starting point. You must make an effort to capture the market which shies away from physical purchases.
And remember that one of the biggest obstacles to shopping online is still concern about shipping costs and delivery.
Americans, even Millenials and Gen X'ers, cite shipping costs as the second biggest reason to abandon an online purchase.
Online Gift Cards carry neither concern – there are no shipping costs, and the Gift Card is delivered instantaneously!
It's a phenomenon of nature: humans procrastinate.
So much so that Google notes 34% more shopping-related queries on Christmas Day than on Black Friday! 
Any option that enables your customers to send a gift and ensure that's it's received the same day is salvation. Especially for those of us who are actively attempting to avoid the wrath of our mothers.
Just because shoppers are online Gift Card-happy, doesn't mean they're automatically going to purchasing your store's online Gift Cards.
You're going to need to lead them to this decision.
Let's take a look at how:
The 8 Ways: Get Mother's Day Shoppers to Buy YOUR Store's Gift Cards
If you want to see your Gift Cards sell like hotcakes, follow as many of these steps as possible:
1. For shoppers to buy your Gift Cards, they need to know that you have Gift Cards.
Create a Mother's Day homepage banner dedicated to your Gift Cards. Link the banner to a dedicated landing page about the pluses of buying one of your Gift Cards as a present for a mom.
Make sure your banner and landing page use colors, text and images that create a "Mother's Day atmosphere" of warm, appreciative feelings.
Hummingbird put a Mother's Day Gifts banner at the top of their homepage: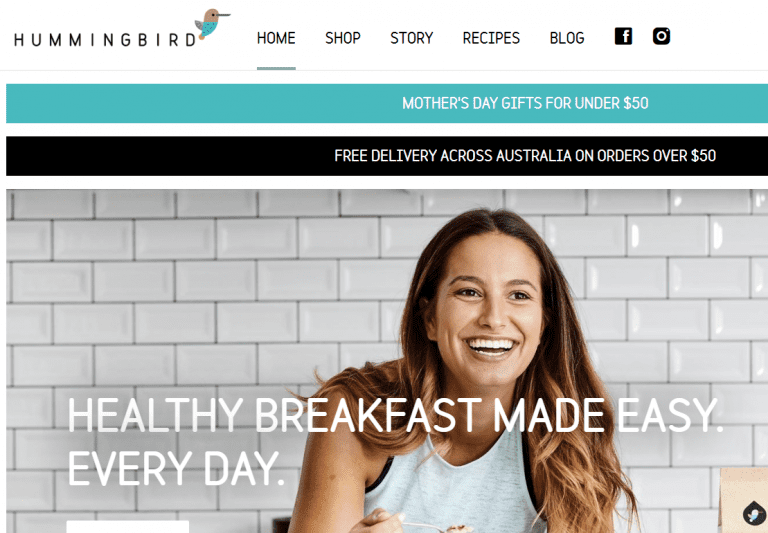 When you click on the banner, the Gift Card option is front and center on their Mother's Day Gifts page.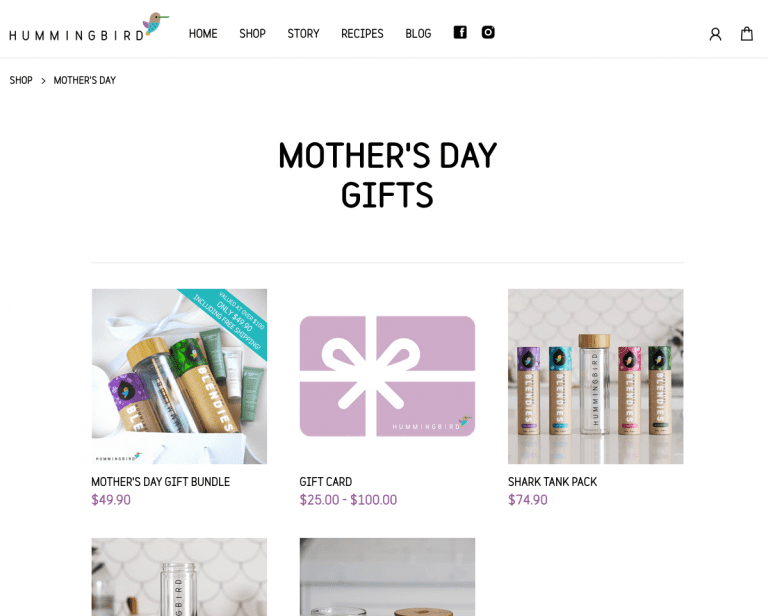 2. Add your Gift Card option to the navigation tabs in the main menu so it's easy to find from all over the site. See how Miami Heat did it:

3. Mother's Day is about expressing emotion, which is naturally best expressed in person.
But sometimes your customer can't be there in person and gives an online, "long-distance" gift. He wants to compensate by making the gift as emotionally expressive as possible.
Empower him by creating an emotional, inspirational gallery of Mother's Day images for use on the Gift Cards. You will be allowing her to select the image that best expresses her feelings.
You don't even have to invest too much time or resources to get good results. A search for "Mother's Day" on a free photo site like Pixabay will turn up gorgeous images.
Sephora, for example, offers a range of six different card designs, four of which are for specific holidays.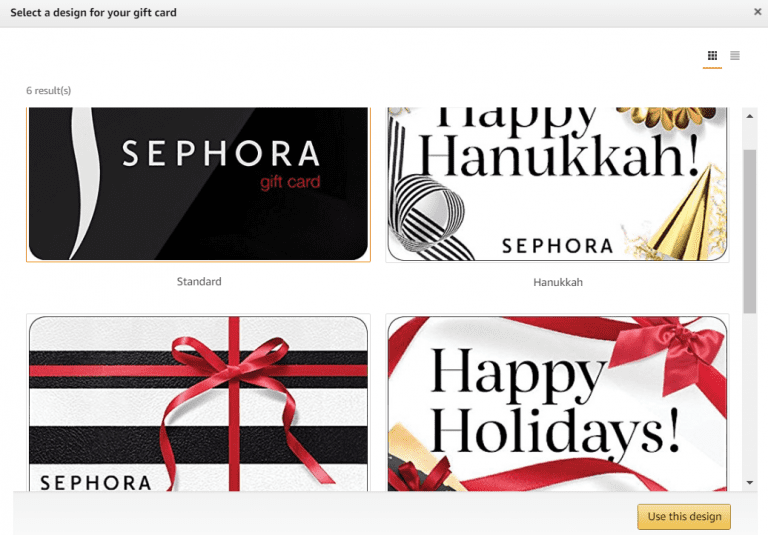 You can see there in no Mother's Day in Sephora's batch. Unfortunately. Mother's Day shoppers will have to choose one of the standard, catch-all designs.
Make sure your customers don't have to do that and are wowed by your beautiful Mother's Day options.
4. Allow your buyer to personalize the language of the greeting card announcement of the Gift Card delivery. By doing that Mom will feel recognized and appreciated.
Coffee roaster and brewer La Colombe lets you write a short message to express your feelings to your Gift Card recipient.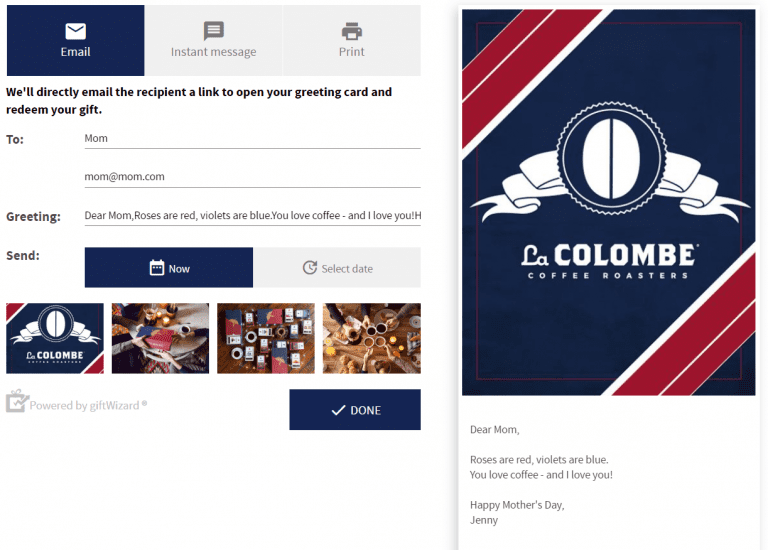 5. Make sure people know that the holiday is coming! Create a social buzz surrounding Mother's Day, and around how Gift Cards as an ideal gift option.
Post images of your Gift Cards all decked out in their Mother's Day imagery.
Use Mother's Day hashtags on social networks that allow them.
A few years back, Starbucks came out with a limited edition Gift Card that reflected Mother's Day perfectly: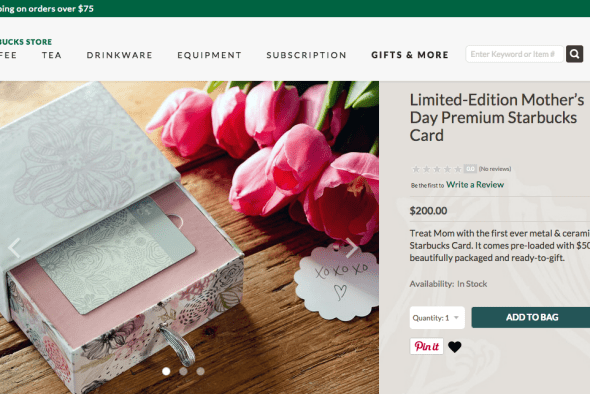 6. Distribute email campaigns to your mailing list about your Gift Card option and its benefits specifically as a Mother's' Day gift.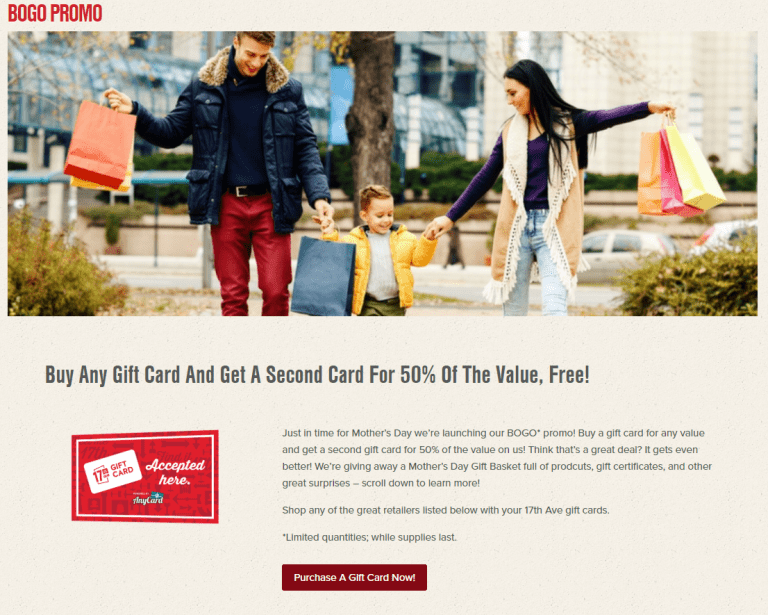 8. Set up a Mother's Day contest, with the prize of a Gift Card for both the son/daughter who enters and his or her mother.
It could be a simple email entry, or a more involved effort. For example, writing the best Mother's Day greeting.
Promote the contest to your target audience and feature the winners on your channels.
Here is the Mother's Day contest Duluth Trading ran:

Happy, Happy, Happy Mother's Day!
Gift Cards are a gift not only for the recipients but for your store as well.
While retailers routinely have to deal with returns and exchanges for every product under the sun, customers (unsurprisingly) almost never ask to exchange a Gift Card! The assurance that the recipient will love the gift also lowers the barrier to purchase, lowering cart abandonment rates.
In addition to their higher profitability, Gift Cards also have the tendency to bring you, new customers.
Your Gift Card recipients, introduced to your wonderful store, are likely to return on their own.
With the right preparation and focus, Mother's Day can be triple happy: happy for your customers, happy for their mothers and happy for you!