Mother's Day is a special day to make your role model feel special. We're not only talking about your mom, but also your aunt, wife, grandma, stepmom, daughter, sister or even a beloved friend. 
Even though we are grateful for them all year, during Mother's Day, they deserve to be extra spoiled! What better way to do this than buying gifts and spending time with your loved ones?
According to the National Retail Federation, last year recorded $23.1 billion in sales during Mother's Day. This year make shopping on your site the best experience possible. However, during this difficult time, people don't want to go to a physical store but still want to give a small detail to their loved ones.
In this post, we'll give you some tips to navigate this situation through eCommerce/online sales before and during mother's day. So your customers can still give a nice detail with their loved ones and your business can keep afloat.
Your customers want to find the right gift easily and you can help them out by giving them space in your site which only displays gift ideas. They would want to have a good and pleasant experience when choosing their gifts.
One strategy is to show them options on a budget such as "Gifts under…" so it's easier for them to accommodate their budget with the gift. Remember to target different demographics and price points. As well as show nice pictures of your products and how they can combine them.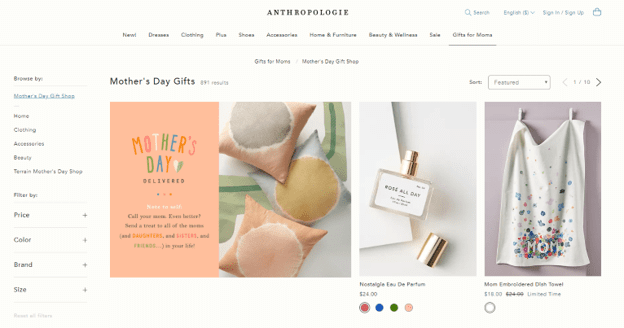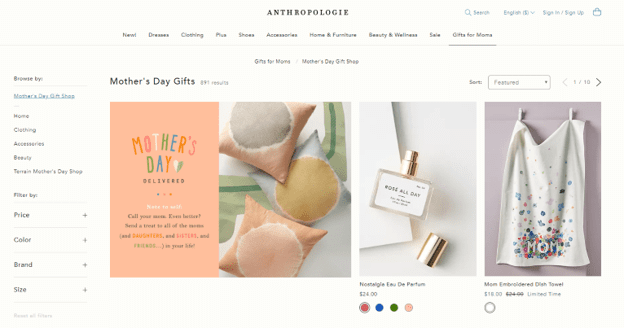 Choosing the perfect gift for your role model might be harder than it looks. Maybe you just can't decide what product would best suit that person. Maybe you are planning to give gifts not only to your mother, but also many other special family members and friends. In this case, deciding what to get might be harder. 
In any of these situations, gift cards are gifts that won't disappoint and are really easy to obtain. While flowers are still the dominant gift selection for Mother's Day, gift cards remain an option for 45% of the shoppers.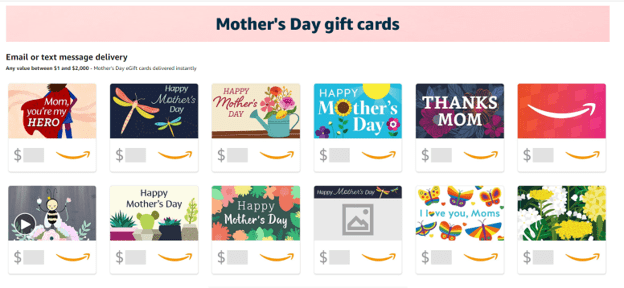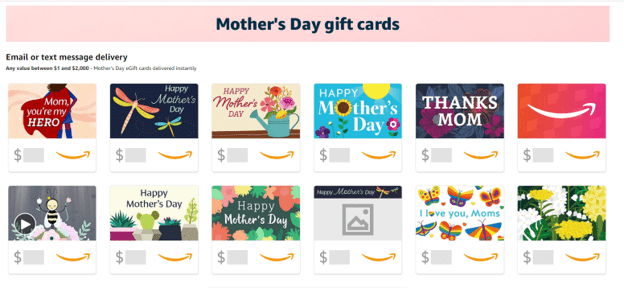 Especially nowadays that people can't go out as often as before, they are looking to buy gift cards, giving or using gift cards is really convenient and saves time for your customers and recipients. 
Gift cards are not just for your customers but it helps you increase sales and brand awareness. You can use Gift Card promotions and incentives such as discounted Gift Cards, or Buy One Get One Gift Cards to be sure your customers will come back for more.
Like any other festivities, Mother's Day brings a lot of attention to stores due to a great demand for gifts during this time. Email campaigns are a great strategy to reach your customers before and during this day.
Make sure to customize your campaign according to your customers' needs and wants and help them decide what to buy. There are many different types of email campaigns you can use to let your customers know about your products during this time of the year.
You Can Even Take it One Step Further
Ask Users to Subscribe to Your Email List – ask users to subscribe to your email list at least one month before Mother's Day.
Countdown – Add to your email campaign a countdown so your customers know all about your special limited time offers
Promotional Email –  let your customers know about mother's day special deals and offers.
Personalized Emails – Let your customers know about special deals and offers, depending on their wants and needs during Mother's Day – personalized emails have an open rate of 18.8%.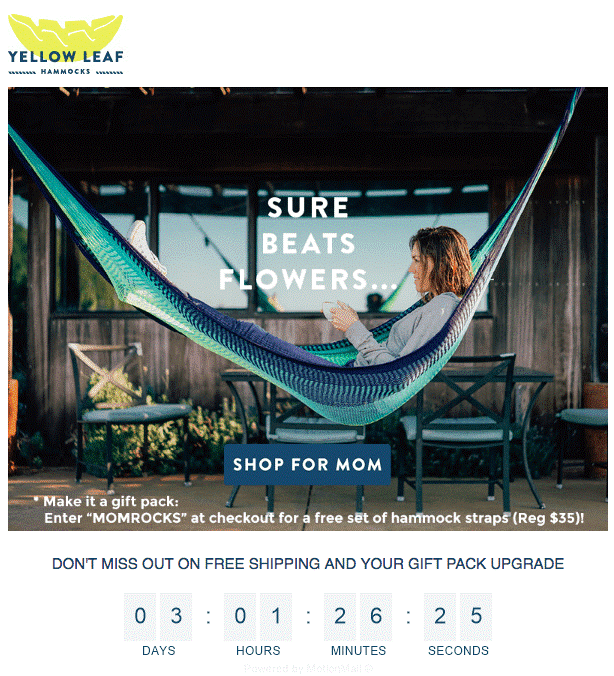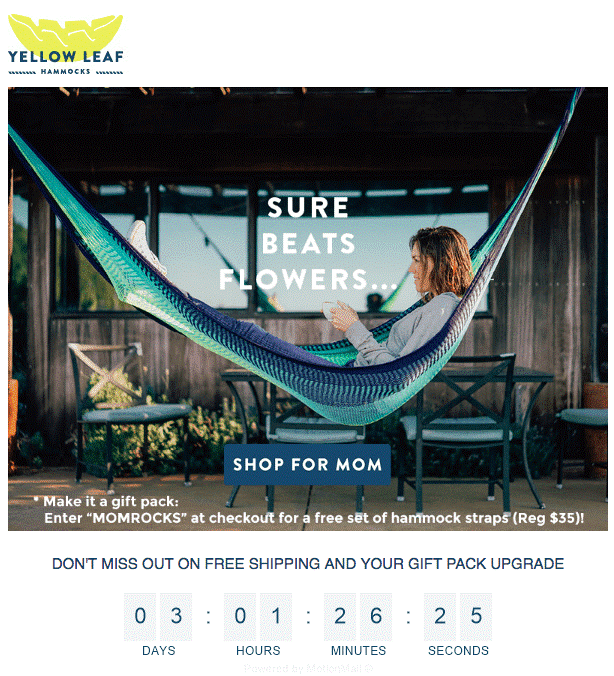 Once your customer is ready to buy you can either let them continue with the checkout or offer them something else. Encourage them to buy more products or alternative products at a higher price with more features.  Your customer will receive better or more products and you receive more revenue.
Upselling works 60-70% of the time, once customers agree to pay a certain price, it is easier to convince them to pay more. For this Mother's Day, incorporate some upselling as your customers may be looking to give as much as they can to the special woman in their lives.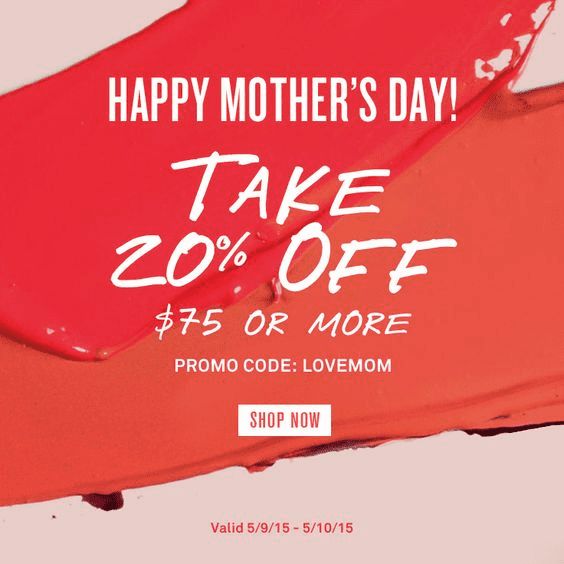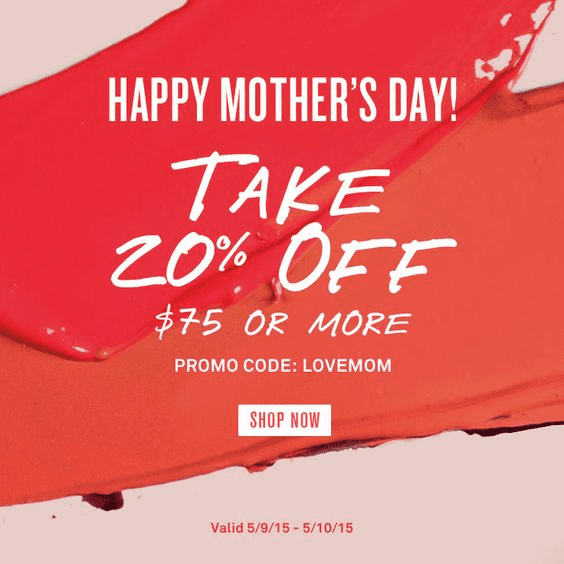 By recovering abandoned carts, you can boost the sales by following up with your customers by delivering multiple ad creatives at the right time. Sometimes they just forget about it or leave the page to look for something similar.
However, a remarketing campaign is the most effective strategy that makes your visitors who abandoned their carts return to your site. In other words, it helps you get your potential customers' attention by delivering the most relevant product information through their Facebook or Instagram.
This will remind them about the products, why they liked them in the first place and redirect them to your website.
Akohub provides an advanced retargeting app that helps Shopify merchants build retargeting campaigns on autopilot. It not only optimizes your retargeting audience strategy based on your website traffic and visitor behavior but lets you customize your ad creatives, targeting audiences/channels and the product catalog you want to highlight.
Remember that this day is to celebrate the women that made an impact on our lives and everything they've made for us, so make sure your customers have a feel over the entire buying process. And no matter what we are all going through, a detail can make someone's day shine.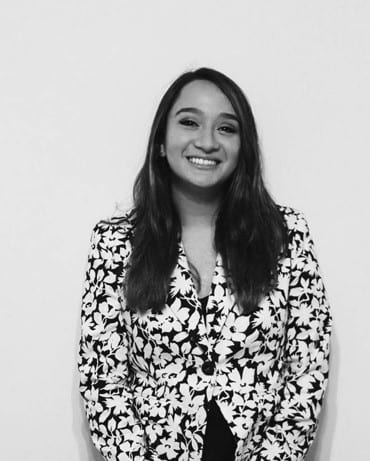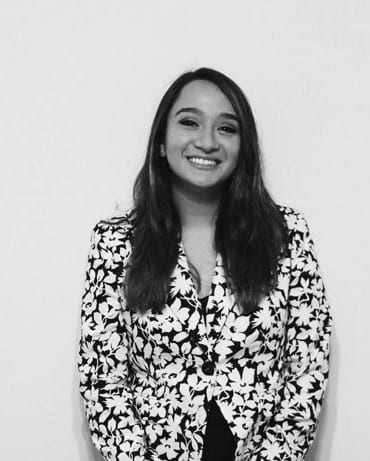 Pammela Murphy, Content Marketing & Partnerships, Akohub
Akohub helps merchants turn website visitors into customers with Full-Funnel Retargeting Campaigns. The Ako Retargeting app also recovers your abandoned carts and increases sales conversion rates. Feel free to try their 14 days of the free trial from Shopify App Store .