Your store has a lot of competition.
With 820,000 e-commerce stores on Shopify alone, no matter what you sell, there's someone (and likely hundreds of someones) who sell it, too.
How do you attract customers before they're lured by the competition? Sales? Discounts? SEO? Inbound content marketing?
What customers truly want isn't any of those; they want to buy from a brand that they feel a connection to. Once they find that brand, it's probably a waste of time to try and lure them away. In Shopify's recent State of Commerce Report, 73% of North Americans said that once they find a product or brand they like, they remain loyal to that brand.
How, therefore, do you become that brand from the outset? How do you drive loyalty, ultimately providing you with high LCV?
The answer lies inaptly named "customer loyalty programs" or "reward programs."
Shopify rewards program can take different forms, but for a program to truly succeed in creating consistent customer loyalty, it must include the following five elements.
1. A Beautiful Brand Experience
If you've seen one Shopify store, then you've seen it… one Shopify store. Yes, they use the same platform, but the variation in designs is endless. Some shops have even won design awards.
Ensure that your loyalty program is consistent with your design and branding. It should look like it was developed just for your store, not like it was layered onto your site as an afterthought. You can absolutely do that in a cost-feasible manner; there are many Shopify loyalty program apps, and a good number of them are customizable.
What to do:
Go to Shopify's App Store and search for a "rewards program" or "loyalty program". For any app that looks relevant: check the app description page and make sure it says that you can customize the design to match your website. This reward program, for example, puts their customization options front and center:
It's best to choose a rewards program app with a free trial, so you have some time to play with it and see how it looks on your site.
Here's an example of a Shopify store with a branded rewards program that fits right into the look of the site: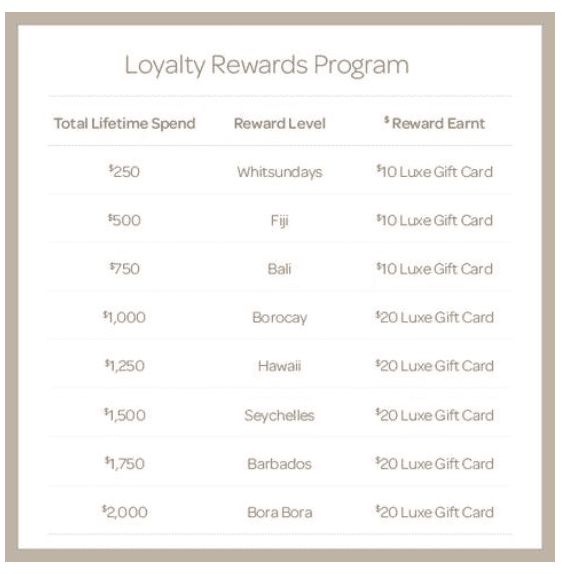 2. Intelligent, Intuitive Rewards programs
What rewards do your customers want?
If you sell gourmet coffee beans to a customer base of curious, adventuresome java lovers, free gifts of store credit toward new coffee bean assortments with exotic flavors will make their mouths water. On the other hand, if most of your customers have been drinking the same type of coffee for the past 15 years, free gifts of new flavors won't speak to them. They would, however, appreciate store credit toward their next purchase of… exactly the same kind of coffee they've been ordering for years.
Know and meet your customers' desires, and you'll attract customers that come back again and again.
What to do:
Before implementing a rewards program, perform a survey of your ideal customers and ask them what type of rewards would be most appealing.
Because a survey can only reach so many people, you can also get insight from analyzing your sales data. What types of products are being purchased? How often? What do buying patterns look like? Are your shoppers predictable or unpredictable in their purchases?
Analyze your data, and it should point the way to which rewards to offer.
If you did all the research and you don't have a clear answer, sometimes it's better to go with a clear, straightforward reward like store credit. Free cash your customers can use whenever and however they want at your store – who can say no to that?
Some reward programs can make your head spin as they offer points for every conceivable action:
Spend $100 in two days and get 200 points
Make 3 purchases in a month and get 400 points
Say hello on Facebook and get 75 points
Download a whitepaper and get 190 points
Take a picture of yourself with our gear, post it on Instagram and get 325 points
And the whirlwind doesn't always stop with earning the points. Customers can trade in points for discounts, or free gifts, or free shipping.
When you design your rewards program, employ simplicity. Figure out what reward your customers would appreciate most and offer it through user-friendly, intuitive rewards earning process.
What to do:
Point-based systems are popular, but if you decide to go with one, don't overload your customers with the sheer number of ways they can earn points.
And sometimes it pays to pick a different type of reward system, where customers don't have to keep track of their points and remember to redeem them. Store credit that is linked directly to the number, type, or value of purchases can be an easy-to-grasp alternative.
Additionally, when you go through the figuring-out-what-rewards-your-customers-want process, don't fall into the trap of saying, "I have lots of different kinds of customers! So I'll offer lots of different kinds of rewards, so everyone has something!"
We admire your generosity, but most customers will be overwhelmed rather than appreciative when you offer so much choice.
Less is more. Figure out what the majority would appreciate, and offer that.
Your customer is a person. He has a name, a birth date, preferences, desires, and a nearly infinite set of traits and circumstances that make him unique.
We all want people to celebrate our individuality. No one wants to feel like a faceless number. Recognize your customer's uniqueness – and make sure he knows that you're doing it.
When your customer feels that he is important and special to your brand, your brand becomes important and special to him.
What to do:
Always use your customer's first name any time you address her, whether it's on your site, in email or through any other medium.
Remember her purchasing preferences.
Make note of birthdays, anniversaries and other occasions with a message and a reward.
Your customer has a lot on her mind. All the wonderful rewards waiting for her through your program aren't exactly at the forefront.
It's your job to remind her.
What to do:
Use emails, texts, and on-site notifications to remind your customer about the rewards she has earned, which are right there, waiting for her.
If your customer has almost earned a reward and just needs one more purchase or action, you can remind her about that too. Just don't go overboard on the reminders: you want your customer to come back, not run away.
A great rewards program means everyone wins
Combine those five elements, and you'll have the kind of rewards program that customers are thrilled to be a part of – the kind that brings them back to your site time and time again.
In a nutshell? Make sure your customers feel like you know them, respect them, care about them and are doing your utmost to meet their needs and wants. Everything else is just icing on the cake.
And with customer loyalty programs, when you have the right cake, you get to eat it, too.