By using our advanced proactive tools to stop fraud before it starts, you'll protect your assets, profits, and reputation
By using our advanced proactive tools to stop fraud before it starts, you'll protect your assets, profits, and reputation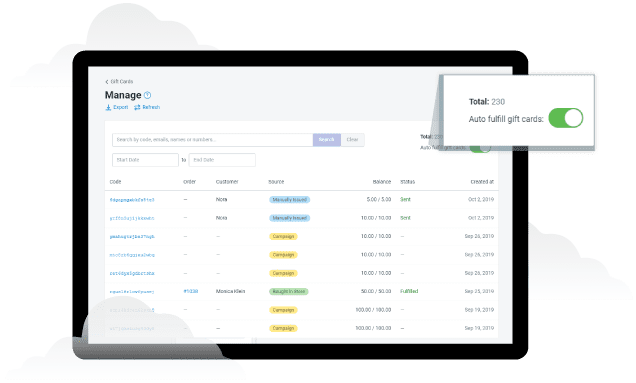 Fraud is known and feared evil in the world of digital commerce, especially when it comes to gift cards.
Nearly 10% of all online fraud attempts are made on downloadable e-gift cards. Fraudsters love them – they're instantly delivered, easily transferrable, require no shipping address, and retain value on the secondary market.
Using stolen credit cards is the most popular method of gift card or store credit fraud, but it doesn't stop there. Other methods involve taking advantage of data breaches with leaked gift card numbers, using the auto-load on gift cards to access customers' bank accounts and jumping on programming loopholes to load more money than actually paid for.
Imagine the losses from a large gift card purchase made using a stolen credit card. You'll have to refund the purchase and accept the loss of revenue and of any merchandise purchased with the fraudulent gift card.
Picture the headache and reputation harm that would result if honest customers are harmed by purchasing your stolen (and now invalid) gift cards on the secondary market, or by having their balance used or bank account drained through a gift card data hack.
Don't take chances. Use Rise's technology to protect your reputation and revenue at every turn.
Our innovative fraud protection system is designed to recognize potentially fraudulent purchasing patterns and provides proactive tools to stop it before it starts.
Rise integrates with other e-commerce anti-fraud services, including Shopify's native anti-fraud detection. Suspected fraud pauses the gift card delivery until payment is captured.
Fraud detection and protection applies to gift cards bought in your online store, purchased at a physical POS, or sent via an automated workflow.