Power marketing campaigns using Gift Cards and Store Credit rewards to re-engage old customers and cultivate new audiences.
Power marketing campaigns using Gift Cards to re-engage old customers and cultivate new audiences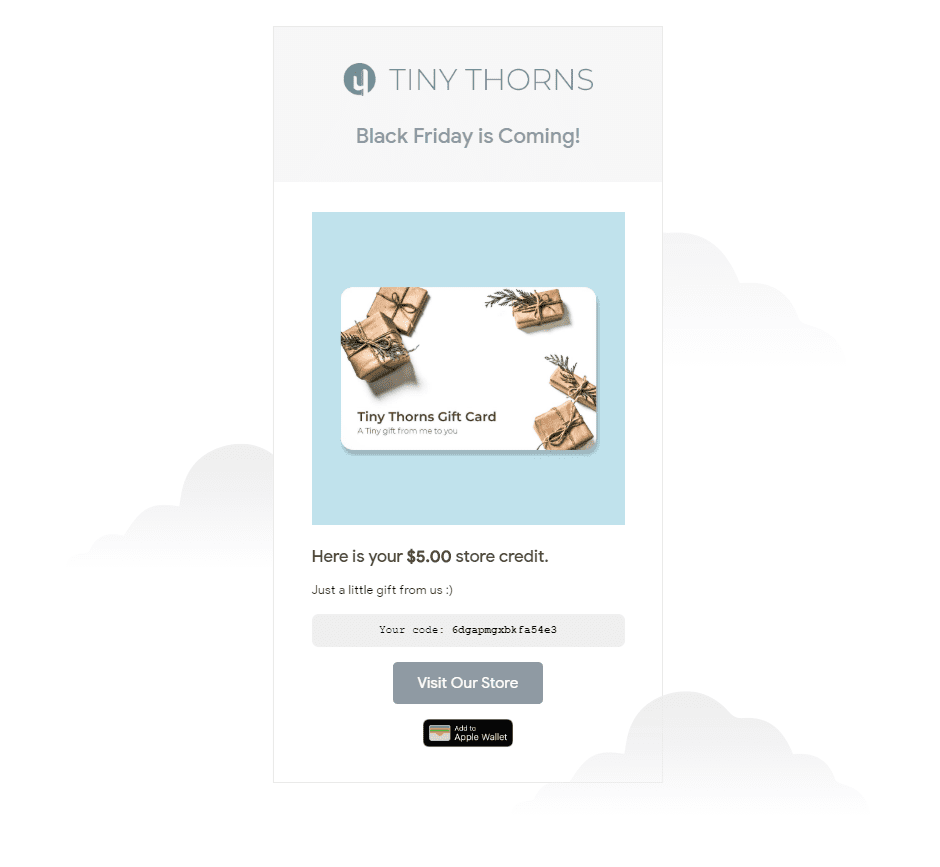 Increase Campaigns Conversions by 2.5X
Not all promotional strategies are created equal. Both the marketing ROI and experiential impact of awarding your customer a coupon or discount pales next to the power of giving complimentary Store Credit or Gift Card.
Discounts can potentially cheapen both your product and your brand. And coupons are often held for an occasion when the customer would buy anyway. Complimentary store credit, on the other hand, is interpreted as free cash… only better.  
Consumers are 2.5x as likely to pay full price for an item when using a gift card than when using cash. In fact, they will also often spend an average of $59 over the value of the gift card!
Rise.ai gives you the automated ability to deliver strategic, low-value bulk store credit and gift card campaigns. Those campaigns are  irresistible temptations not only to your existing customer base but also to those in similar demographics and buying behavior categories (or any other list that you choose to create). 
Use Rise to power your revolutionary, high ROI marketing campaigns.
Re-engage dormant customers
Create powerful email campaigns that target inactive customers and distribute complementary, low-value gift cards. Remind stagnant customers about your existence, inspire positive emotions associated with your brand, and give them a reason to go to your site (and buy). 
Offer complimentary gift cards to incentivize email signups or joining your community. This is a powerful tool to use when a partner is introducing you to a new potential audience. Give your new audience something to remember you by – and a reason to get to know your store better.
Create smart, intuitive campaigns with high conversion rates by distributing complimentary low-value gift cards based on specific behavioral or seasonal triggers. Triggers can be generalized or individualized to customers' purchasing patterns and personal data.
Rise integrates with top email marketing services, making implementing your store credit campaigns simple and speedy. You can also use offline mail marketing to send digital codes or physical cards.
The larger the purchase, the larger the pressure consumers feel when making the decision on whether to buy or not. Use complimentary gift cards to get customers over the decision hurdle on big-ticket items. Move stock by encouraging purchases of specific products. All without the need to use brand-cheapening discounts.