These days, people are sticking very close to home due to Coronavirus concerns. Social distancing is a physical reality that spills over into an emotional reality. We feel distant from family, friends – and the businesses that we're otherwise used to frequenting.
As a business, you have the ability to reach out to your customer base and strengthen your relationship in these challenging times. By engendering good feelings, you provide both altruistic, short-term benefit for your customers, in addition to long-term benefit for your business
Worth it on every level?
It certainly is!
Roll up your sleeves and decide which of the following relationship-building activities you're going to put into action – today.
Treat your customers with Store Credit
Show your customers how you're thinking and caring about them by sending them complimentary store credit.
A complimentary gift card is perceived very differently than a discount, even if technically the financial result is the same. It's seen as a gift, as free money, as generosity on your part.
Gift card amounts in the $10-$15 range tend to do well. It's enough to feel significant, but not so much that it puts a dent in your profits. 
When you reach out with generosity during a difficult period, customers remember it for a long time.
Added business bonus for you: customers tend to spend over the value of their gift card, generating great upsell revenue.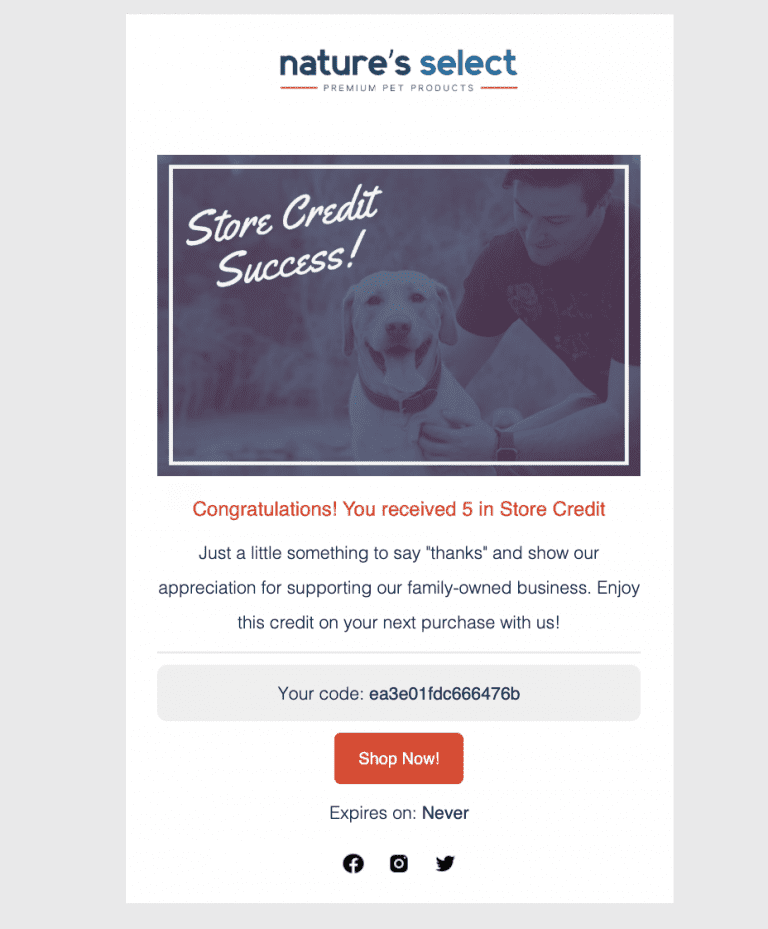 Stand behind your products 110%
When customers return products, they expect a refund or store credit for the amount they paid for the product. 
How do you think they would feel if they received store credit for 110% of the amount they paid? 
Surprised? Incredulous? Grateful? All of the above?
We're living in a stressful situation. Dealing with buying a product, not having it be what you expected, and returning it only adds to the stress. 
Turn stress into delight by giving a store credit refund for the amount your customer paid… and then some.
Give a store credit reward with every purchase
If a customer makes the effort to purchase from you, even during this economically challenging time, show your appreciation by giving them a store credit reward. You can give back a pre-defined amount or a certain percentage of their purchase. 
To make the benefit even more tangible to your customer, give significantly higher amounts for higher purchases. For example, if a customer buys $50 worth of products, give $5. If a customer buys $100, give back $15. And if a customer buys $200, give back $45.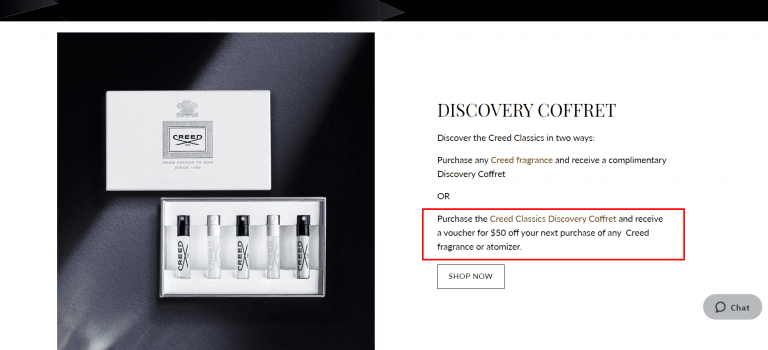 Be a resource for dealing with COVID - 19'
Your customers are probably used to receiving marketing-focused emails from you. Promotions, sales, discounts – what else would you expect a business to send? 
Now is the time to go beyond the expected and turn your emails, site and other channels of communication into a helpful resource for your customers. 
If you're a local business, share helpful updates relevant to your community. 
Even if you're not based in one locality, you can still share valuable resources. How about downloadable coloring pages or activity booklets for children? For all parents trying to teach, entertain or distract a cooped-up family, more activities on hand are invaluable. 
Create incentivized gift card offers
Many Americans are already feeling the pinch in their wallets, and that's only going to increase if the US unemployment rate skyrockets as predicted.
Offering gift card discounts and deals enables your customers to stretch the value of their dollar. Let's say you offer a "buy a $25 gift card; get a $10 gift card free" offer. Customers know they can spend $25 on your gift card but get $35 worth of product. That's great for them!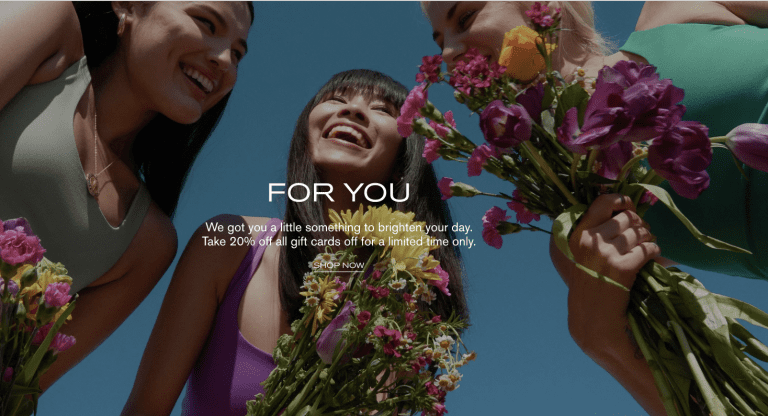 The same idea goes for discounting gift cards, so customers can buy a $100 gift card for $80, or by offering a free gift card with every order. Your sensitivity to your customers' financial situation will be very appreciated.
Ask for help from your customers
TED talk that has racked up over 46M views (yes, that M is for million!).
So while you might think that asking for your customers' support during the Corona crisis feels like an embarrassment, your customers will likely see the situation totally differently. They'll appreciate your business' humanity, rally behind you and show their solidarity. 
When you make that kind of vulnerable, powerful connection during a challenging time, it can't help but carry over even to times when the challenge is behind you.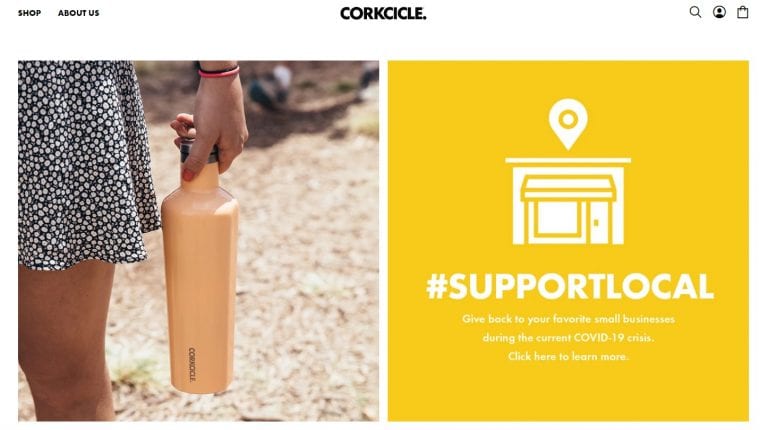 Reach out personally with a message
Ever get a personal letter from the CEO of a company? No, not the "personal letters" that were obviously written by a marketer and sent out to their entire email list. A really personal letter. One that was clearly written by the person who signed it, and just as clearly addressed to you and you alone. 
Never received one?
You're in good company. 
So imagine how a loyal customer would feel if you took the time to write her a personal email, asking her how she's doing and making it through the coronavirus situation. 
Impressed? Touched? Connected?
We know we would be
Give-back for purchases with a rebate program
Many companies have rebate programs, where customers get back a certain percentage of their purchases in store credit. If you don't yet have a rebate program, now is a great time to consider instituting one. 
As mentioned above in relation to incentivized gift card offers, consumers are looking to get more bang for their buck. An announcement that you want to give back to customers, and will be giving them a percentage of every purchase back as store credit, will be received with great appreciation.
Say thank you by rewarding referrals
When your customers bring you more customers, how do you say thank you? 
You might have a referral reward program set up already; if not, now's a great time to take care of that. 
Referral programs that reward both the referrer and the referee engender warm feelings toward your brand. The referees feel welcomed and appreciated from the get-go, and the loyal referrers feel even more committed.
Using referral you strengths one relationship and build a new one.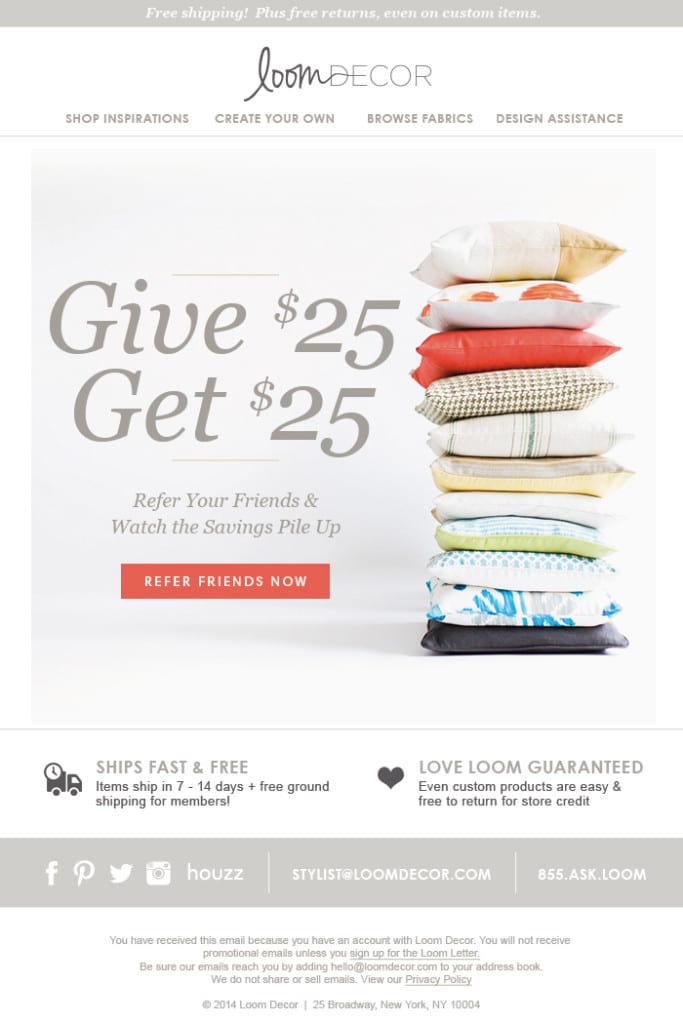 Bottom line: invest in relationships
In any time – and all the more so in challenging times – the best place to invest is in relationships. Inventory, equipment and other tangible resources go and come – but the relationship with your customers stay and grow. 
No one asked for the Coronavirus crisis. No one welcomed it. But it's here. 
You have the opportunity to use this sensitive time to build a stronger relationship with your customers – and reap the benefits for years to come.
Has the Coronavirus effected your brand?
Learn about new ways to re-engage with your customers during these times in our COVID-19 Resource hub.