Okay, it's time to plan the game of associations. Ready?
If I say "loyalty program," you say…
Did you say "points"?
It doesn't matter whether you call them points, stars, coins or great balls of fire; if your customer needs to amass them and redeem them for rewards, they're points. 
For many shoppers, points have become so synonymous with customer loyalty programs that it's almost passe. If that's all you're offering, your loyalty program will be indistinguishable from all the other rewards programs out there.
What can you offer to differentiate your loyalty program and attract customers during the holiday season and beyond? Let's take a look at 5 powerful hacks that you can use to make your loyalty program stand out from the crowd.
Paying less for products that are available to everyone is nice. 
Access to products that are not available to everyone is way more than nice. It's exclusive, empowering and attractive.
If you want to give your loyalty program the aura of VIP-ness, offer your program members exclusive products that are available for members only.
Nike does this wonderfully, with their members-only Exclusive Shop. Want the personalizable Nike Kyrie 4iD sneaker? Well, you'll just have to become a member, or you'll be stuck window-shopping at a store that doesn't even have windows.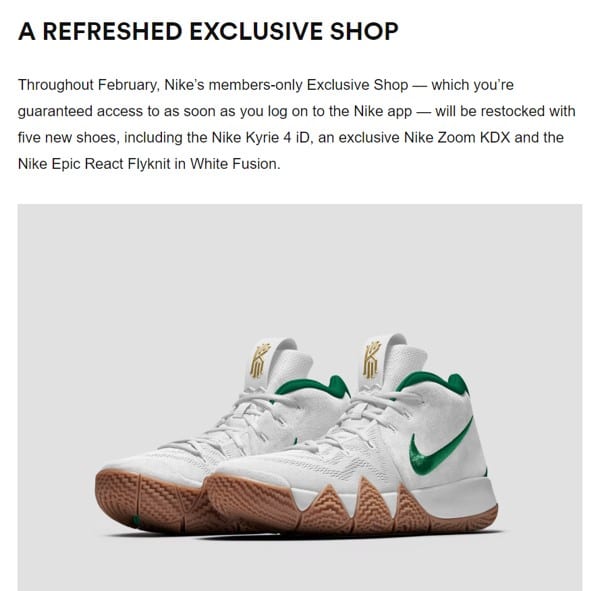 Sandwich shop Potbelly holds out some tantalizing exclusive offers to the upper two tiers of their Loyalty program, including "exclusive first tastings" and "underground menu access." 
What is on the underground menu? We don't know; that's the whole point. If we lived near a Potbelly, we might go in and beg for a peek. We won't order from it before we're a member! Promise!

What exclusive offerings could you give your loyalty program members? Menu items that no one else sees? Products that no one else can buy? Styles and colors that are already off the shelves? Styles and colors that haven't yet made it to the shelves? 
Spend a brainstorming session with your inventory list, and we're sure you'll pick some winners.
2. Input Into Your Business's Offerings
What's one better than getting products that not everyone gets? 
Getting to determine the products that everyone gets!
Imagine that you were given the power to decide what would go into the new combo roll at your favorite sushi place. Or the colors of this season's bathing suit selection at your favorite swimwear shop. 
If being part of their loyalty program gave you that power, you'd join in a heartbeat, right?
Giving your loyalty program members the opportunity to give you input into the colors, styles and flavors of upcoming offerings is a powerful pull. It means you might actually, finally get exactly what you're looking for. Who could pass that up?
Hair color company oVertone offers exactly this benefit to their Color Club members. While their program has a tiered system, the perk of "having your say on new colors & kits" is so fundamental that it's available at all membership levels.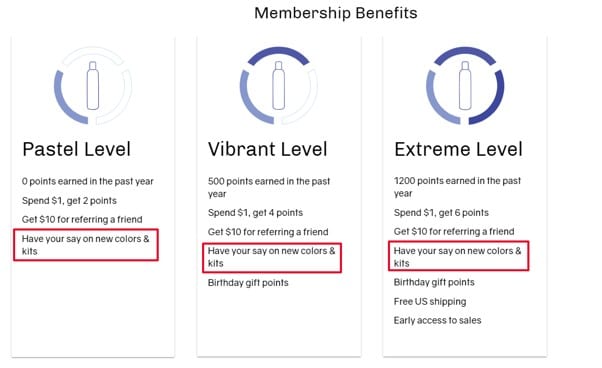 Letting your customers have input into your offerings also means that they are more likely to purchase those offerings. They suggested; they're invested!
What would your customers want to have a say in? Give it to them – once they join your loyalty program!
3. Give the Power to Give
As the holiday season gets into full swing, giving is at the forefront of everyone's minds. Now, more than ever is the time to emphasize how your loyalty program not only helps your customers receive but also helps them give to those who truly need it. 
Partnering with a charity can provide significant benefits to the world's needy while attracting customers who are good-hearted and open-handed.
The Body Shop has been doing just this for several years, giving their "Love Your Body" loyalty program members the option to redeem their rewards for physical products or to convert them into a cash donation to a charity. 
The Body Shop started with a partnership with primate sanctuary Born Free USA and now includes ecosystem preservation organization World Land Trust.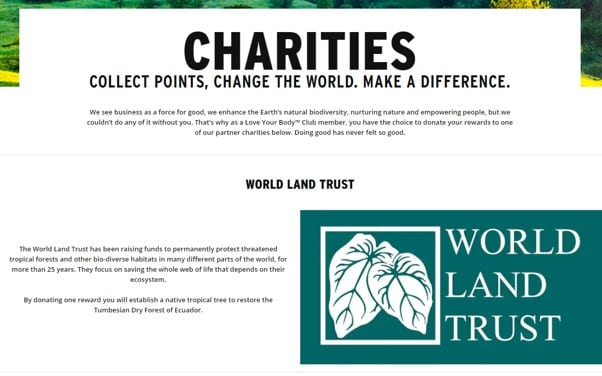 How about helping the hungry? Chick-fil-A enables you to have your chicken sandwich – and donate it, too! As a member who reaches one of the upper two tiers on the Chick-fil-A One loyalty program, you can donate a meal to those in need.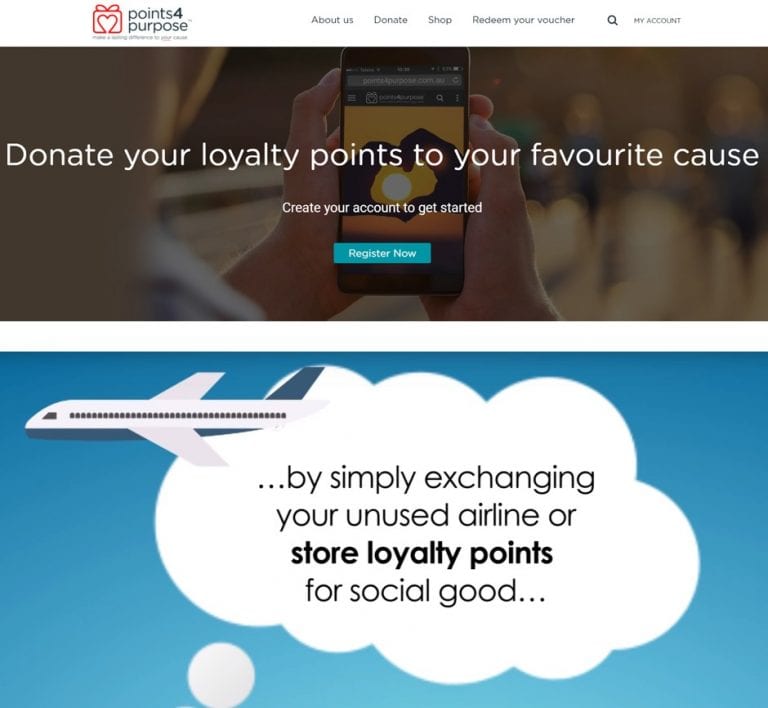 Try and think of a way that you can take this into your business. Can you partner with a local – or national – charity? What cause is important to your customers?
4. Share Rewards with Family and Friends
It's wonderful to be able to save the tropical forests that the world depends on or help the poor. Sometimes, however, the most powerful giving is done at or close to home, by reaching out to your family and friends and showing that you appreciate them, and don't take them for granted.
Loyalty programs that enable you to share your rewards with family and friends empower you to express your love and appreciation for those close to you. Additionally, not all your loyalty program benefits will be relevant to all of your members. If a member can give an unwanted benefit to someone who would truly benefit – it makes your loyalty program seem that much more worthwhile to be a part of.
Chick-fil-A not only lets members donate meals to charity, but it lets them share rewards with people close to them.
Imagine Corporation's figure for "members [who] want to share their benefits with family, friends or charity" is 65%! If their figure just for charity was 27%, then it would seem that there are more people who want to share with friends and family!
Channel this desire by enabling your loyalty program members – where feasible – to share the wealth that your program bestows upon them.
5. Rewards for Accomplishing Goals
Most loyalty programs give rewards when members do things that are beneficial for the business (like buy products). 
But what if a loyalty program gave you rewards for doing things that were beneficial to you? That's rewards – squared!
Nike knows that a major goal of many of their customers is getting – and staying – fit. In a stroke of altruism (with business ramifications), their NikePlus loyalty program not only gives rewards for purchases but for maintaining an active lifestyle!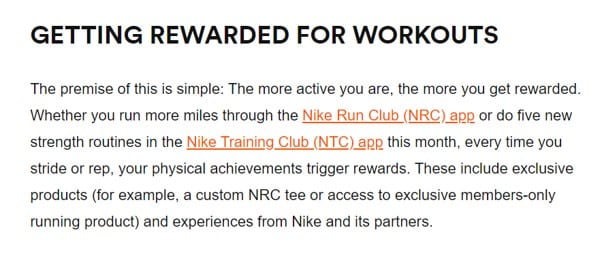 Wow. Can you feel the investment of Nike into "inspiring and rewarding members on their journey to being the best athlete they can be"?
When a NikePlus member feels that investment into his success, he'll be all that more emotionally connected and invested in Nike.
Win? Win-win!
Get started and grab those customers!
Make your loyalty program stand out from the crowd. Pick one of the 5 hacks mentioned above and put it into action. 
Act fast – the shopping is underway and there's no time to lose. 
Here's to a winning holiday season! (Nike would be proud).