The strongest trend in the eCommerce industry in the last couple of years is online personalization. Personalization is not only about the language and design of the site, but also about the way the brand interacts with its customers. Brands that identify their customers' behavior patterns, purchase rate and industry trends have the tools to launch a loyalty program that has a real impact on their bottom line and creates brand loyalty.
We conducted new qualitative research examining leading brands in our top three industries: Fashion, Beauty, and Food & Beverages. We wanted to identify how they achieve successful loyalty programs, their unique approach towards their loyal customers, and their effective promotions.
Our research enabled us to identify optimal ways to connect with your customers and how to strengthen your relationship to achieve amazing results.
With the ability for information to be spread like wildfire, one food critic's review can have the power to determine the fate of a restaurant; will it succeed or fail based on the crunch of its hot chips and decor.  
Recommendations from friends and family in whose palates we trust, are just as important. 
Essentially, word of mouth – with a side of social media sharing – is everything in the food and beverages industry. 
We all know how one photo of a scrumptious looking meal can send our taste buds wild and lead us straight to the door of the restaurant. Or, in the case of the past year, lead our fingertips to order "contactless delivery". Thank goodness for delivery during COVID – can I get an amen?! 
Our need for a strong recommendation, and our desire to share our positive experiences with others, is precisely why referral programs have the capacity to work so well. 
VinPorter, the Napa Valley winery boutique, kept this in mind when they built their loyalty program. As they wanted to reward customers for referring their new customers they launched a referral program offering a $30 discount for referred customers and rewarded the referrers with  $30 in store credit.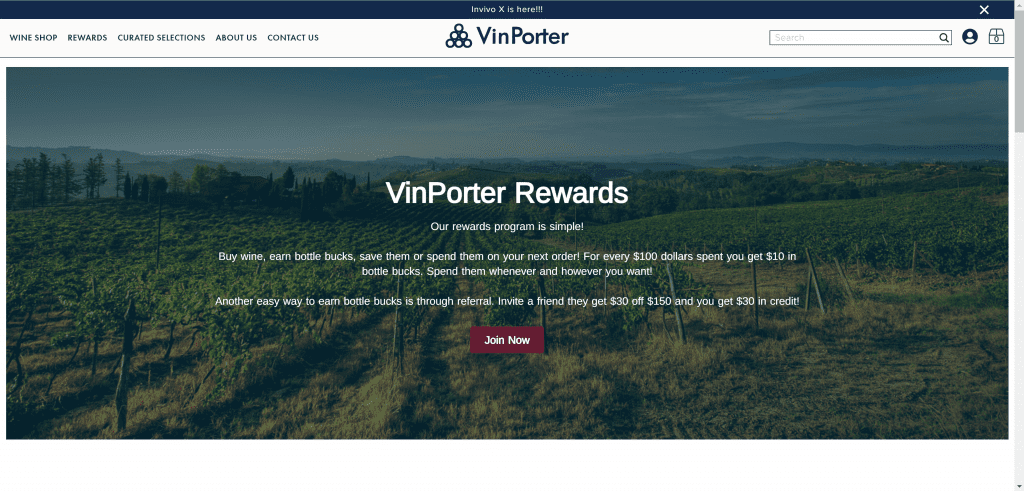 On top of the referral discount, the new customer receives a store credit reward for their first purchase.
The last step of their loyalty program was adding rewards based on total cart value.
Using this rewards combination, VinPorter was able to introduce every new customer to their brand while instantly giving them the best reason to come back to shop again – a store credit reward waiting to be redeemed.
Through this process, they were able to increase their RPR by 57.26%, increase their AOV by 4.92% and increase their Customer Value by 16.10%.
Our Industry Recommendation:
In the Food & Beverages industry, the repeat purchase rate is relatively higher than in other industries. Our recommendation is to leverage the high RPR and try to decrease the time between purchases, add an expiration date to your rewards to increase urgency, and drive customers to return to your store to shop again.
Using this strategy the Food & Beverages brands we assessed were able to increase their customer value up to 34%.
Using this strategy the Food & Beverages brands we assessed were able to increase their customer value up to 34%.
Fashion is a seasonal industry, both for physical and online stores. To help with the fluctuation in spending patterns, stores offer end-of-season sales, advertise clearance items (who doesn't love a bargain?), new collection discounts, sample sales, and holiday discounts. The combination of high competition and low brand loyalty, forces brands to offer better discounts and create more selling days to lure consumers to their stores. 
LA-based Premium men's shirts store, Cuts Clothing, tackled this problem by using the extra traffic that the store's big sale brought, to increase brand loyalty and RPR. They also offered limited-time store credit rewards during October 2020 which expired at the end of the same year. This encouraged their customers to use the credits during the Black Friday sale. With a 14.10% redemption rate and a $237K revenue, it is clear to say that this was a successful campaign.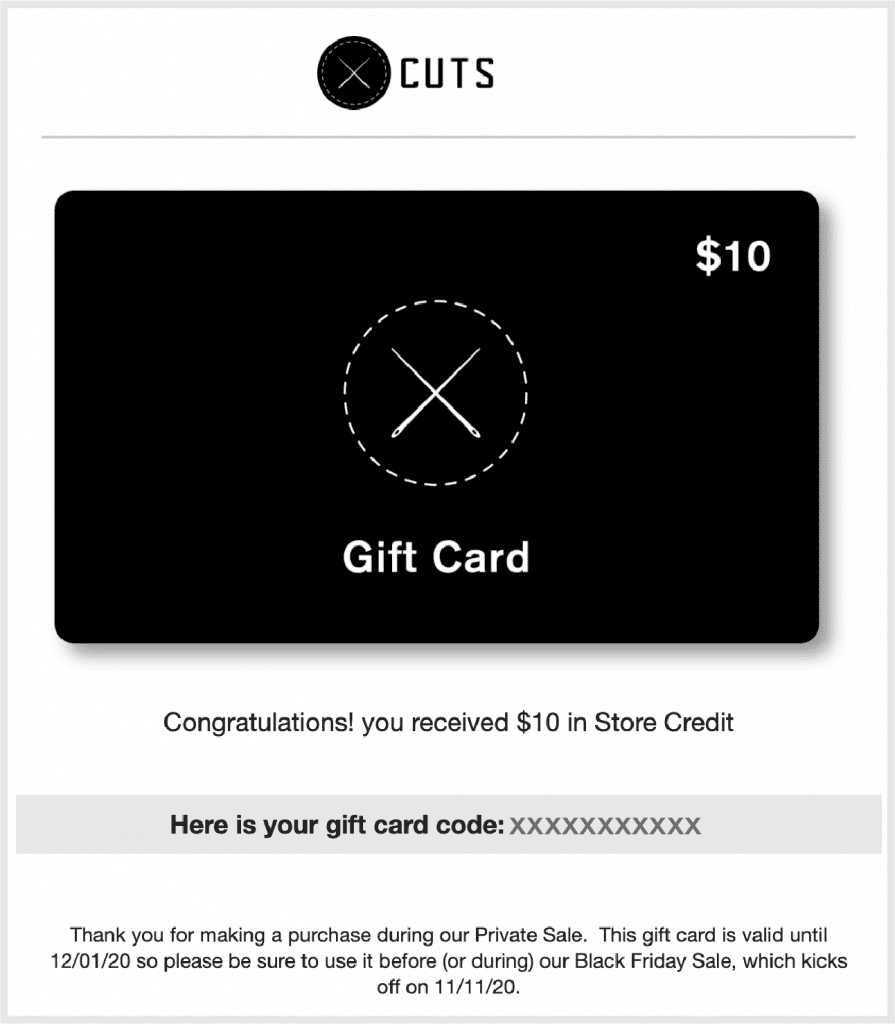 Our Industry Recommendation:
The Fashion industry suffers from low brand loyalty. Studies show that millennials are the most loyal generation and that they are not looking for discounts, they are looking for brands that can offer an engaging experience that meets their needs. 
Strengthen the relationship with your customers through your loyalty program and offer a VIP tier-based program that offers more than just discounts by including early access, VIP events, and more.
Through our research, we found that fashion brands that choose to create a holistic rewards program were able to increase their RPR up to 48%.
Branding in the Beauty industry is of significant importance. Competition is fierce with beauty retail giants like Sephora or Ulta Beauty, makeup and beauty brands like MAC cosmetics or Lancome, and a-listers beauty brands like Kylie Cosmetics or Fenty Beauty. 
Creating a brand identity and creating a loyal customer base, is crucial for a brand's success. 
TreStique created a new way to shop and customize makeup, promoting their 'real makeup for real people' five-minute makeup routine. TreStique knew that once a customer buys their essential bundle, they are more likely to order it or other products again. They made this bundle a whole lot more appealing by offering a store credit reward that can be used on the next purchase. Using this technique, they achieved a knock-your-socks-off result of 96.09% increase in an a 13.10% increase in customer value.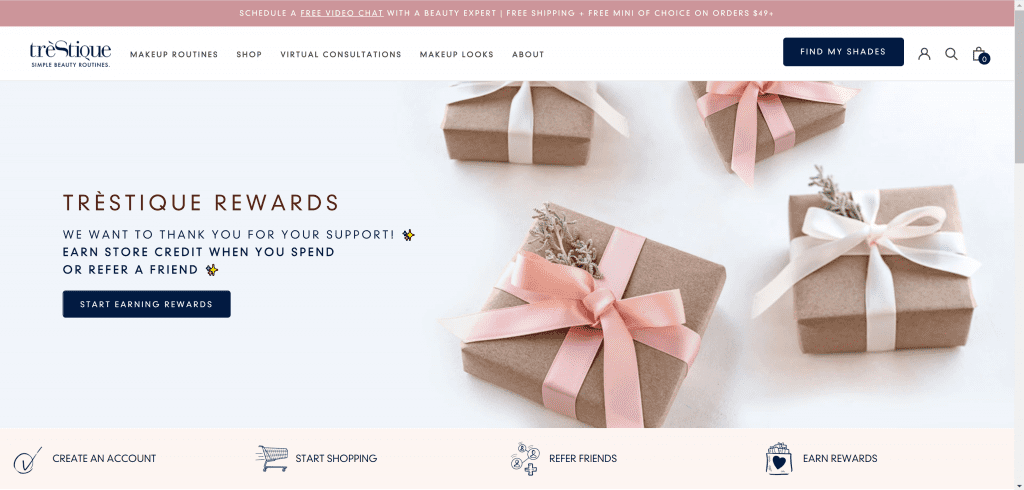 Our Industry Recommendation:
The fashion industry is divided into two strong shopper groups: the first, shoppers that already have their favorite products, and the second, those that are still looking.
For the first group, loyalty is in their DNA so offer a subscription to keep them using your products. If you'd like to take it to the next level, add samplers of other great products so they will fall in love with you all over again. For the second group, create a "get to know us" bundle to introduce your finest products.
Beauty brands that embrace this strategy will be able to increase their AOV up to 9%.
What's Your Loyalty Program?
A loyalty program is the bread and butter of any relationship between a brand and its customers. By using a loyalty program, you will be able to reach out to customers, increase your AOV and decrease the time between purchases.
When launching a new loyalty program, or when a brand is looking to mix things up, it is key to keep in mind industry trends, current metrics, and what your brand is looking to achieve. 
With the right strategy, you will be able to reach the stars.
"Whenever launching a new loyalty program, I always advise taking a look at the things that worked and didn't work before", Dana Gur, Account Manager at Rise.ai advises, "Based on that and industry benchmarks you can create KPI's that will help grow your brand. I always recommended creating an agile marketing plan that supports those goals integrated between acquiring new customers and retaining existing ones".
If you are looking to launch or update a loyalty program, schedule a demo call with one of our loyalty experts. Together we can create a loyalty program of your dreams.