Uber, which operates in over 10,000 cities across the world, provides package and food delivery, couriers and freight transportation. However, it's most known for its ride-hailing service, which we'll focus on today.
What Uber's Referral Program Offers
When you refer a friend, you each get a free ride (up to a certain amount).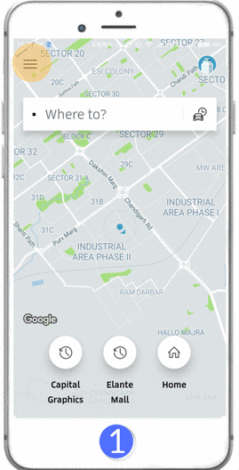 What Makes this Referral Program Work
Uber chose to provide a free service instead of the more popular reward – store credit. Ultimately, both options provide the same thing. They're just positioned differently.



Even though the ride is free, the friend has an opportunity to experience the service and get hooked. Once that happens, the referring customer has another opportunity to engage with the brand herself (by riding for free too), which could keep her coming back and referring.

 

As we've seen with gift cards and store credits,

customers often end up buying more than the value of what they were gifted

. It's very likely either the referring or new customer – or both – need a ride that costs more than their free gift. But because the gift covers part of the ride, they'll choose to ride with Uber, giving the brand a chance to wow them, drive some revenue, and hopefully

keep them coming back

.
Dropbox provides online storage to over 600 million people across 180 countries, who use its platform to collaborate with coworkers, family members and friends.
What Dropbox's Referral Program Offers
Dropbox provides online storage to over 600 million people across 180 countries, wå
When you invite friends to use Dropbox, you each get extra storage space for free. It's a tiered referral program:
Dropbox Basic members (a free plan that gives you 2 GB of storage): You get extra 500 MB per referral. If you keep referring friends, you can earn up to 16 GB – 32x the amount of your original plan.

Dropbox Plus ($9.99/month, 2,000 GB) and Dropbox Professional ($16.58/month, 3,000 GB): You get 1 GB for each referral, and can earn up to 32 GB.


What Makes this Referral Program Work
Let's talk about the free plan users, as they have the most to gain. The idea is likely that they know other budget-conscious people, who need storage yet aren't ready to invest in it yet. It's unlikely that most people will be able to refer 32 friends and gain the upper reward limit of 16 GB. However, by the time they need to upgrade to a paid plan themselves, they'll be advocates with a deeper emotional investment in the brand. They'll feel more ready to make the transition.


In case they indeed refer 32 friends, Dropbox earns a new community of trusting users. That trust, which was built through the referral before they even started using the service, will make it easier for them to upgrade when the time comes.



Limiting the amount of free storage a single person can earn limits fraud potential.
With almost 2,200 stores in 24 markets, Uniqlo offers clothes that go beyond gender, ethnicity and age categories, so anyone can feel free to embed them in their unique style.
What Uniqlo's Referral Program Offers
When a customer sends a $10 promo code to a friend, the friend gets $10 to try out Uniqlo – and the referring customer gets $10 off her or his next order.
What Makes this Referral Program Work
It's simple to understand and execute – give $10, get $10.



It keeps both parties shopping.

The more a customer shops from you, the likelier they are to keep shopping from you

.



Uniqlo offers other ways to get $10 off your next order, including signing up to its email or text list. But a referral program doesn't sound as promotional. It's a fun way to share something you love with a friend, while giving her a gift. The $10 off your own order is the icing on the cake.
Robinhood is an investment platform that makes trading stocks more affordable, inclusive and intuitive, so more people can participate in the financial system.
What Robinhood's Referral Program Offers
When customers refer friends, they each get a stock for free. Customers can receive up to $500 worth of stocks for referrals in each calendar year.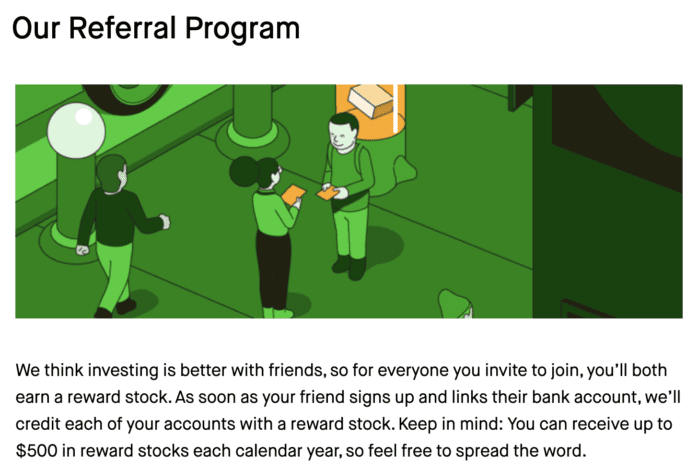 What Makes this Referral Program Work
Customers are giving their friends gifts

and

receiving ones themselves. It creates a shared experience, keeping both parties more – well – invested in their investing endeavors.


Customers can keep giving stocks to their referred friends even once they've hit their own $500 value receiving limit.



That said, since

98% of customers and their referrals

receive a free stock that's worth $2.50 to $10, many customers probably won't reach that limit anyway. If they do, they can get more rewards next year.
Our client, NEIWAI, is a premium clothing brand that revolutionized the Chinese market with lingerie, loungewear, activewear and daywear that focus on both women's comfort and their freedom of expression. After maintaining over 100 physical stores in China, it started its US operations in 2020 and launched its referral program.
What Neiwai's Referral Program Offers
Neiwai offers rewards for referrals – both for the new customers and the advocates who referred them. Each one receives a $20 store credit reward.
What Makes this Referral Program Work
Customers are incentivized to refer friends without feeling salesy. In a world where almost every other Instagram story is a sponsored ad, being able to just give your friend a gift is a much easier way to make a referral.

There's no limit to how many friends a customer can refer or how many store credit rewards a customer can earn.

While this is unlimited "free cash," it's strategic "free cash" since it's store credit. It gives both the new customer and the advocate an opportunity to engage with the store, try out new products, and potentially spend more than the value of their store credit. Like we said above, that's a common scenario with store credit and gift cards.
And indeed, NEIWAI generated $443,000 in revenue within the first three months of its referral program.
How to Make Your Referral Program One of the Best
If you're just getting started with referral programs, check out this article on how to set it up for success from the start. Meanwhile, remember this: As you can already see, all these top referral programs provide incentives for new customers to try out their programs – but they don't leave their advocates behind. Their referring customers get at least just as many rewards as the new customers.
All these top referral programs look for ways to show their advocates how much they value them, and they do it in a strategic way to the brand. Whether it's positioned as a free service or store credit, the intention is always to create another opportunity for engagement.
When a customer engages with you, that's your opportunity to roll out the red carpet and wow them once again, to remind them why they referred their friends to you in the first place. Keep doing it for your advocates – and the new customers they generate for you – and your referral program will keep on thriving.