If your company incentivizes marketers to acquire new customers, you're not alone. Growing a company's customer base is a very popular strategy. But a two year study from fintech company Bumped discovered that "customer retention efforts bolster company revenue an average 40%."
And since it's actually way more worth your effort to focus on retention, let's calculate your repeat purchase rate (RPR) and figure out some (counterintuitive) ways to increase it.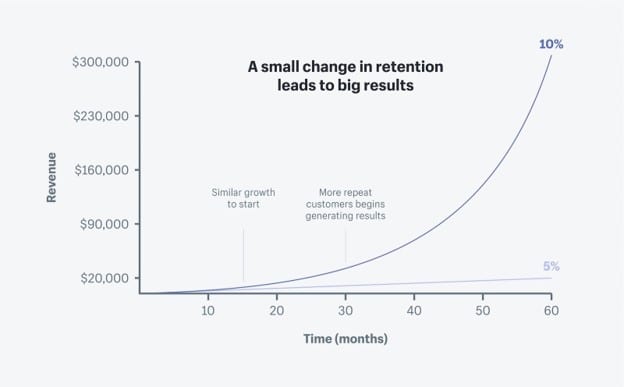 Why it's Important to Know Your Repeat Purchase Rate
The one word answer to "why it's important to know your RPR" is "profit." Plain and simple – repeat customers are more profitable customers.
1) The More Times They Buy, the Likelier They are to Keep Buying
"While only 32% of first [time customers]… will make a second purchase, 53% of customers that make a second purchase will make a third. And with each successive purchase, the likelihood of them coming back increases" reports RJMetrics.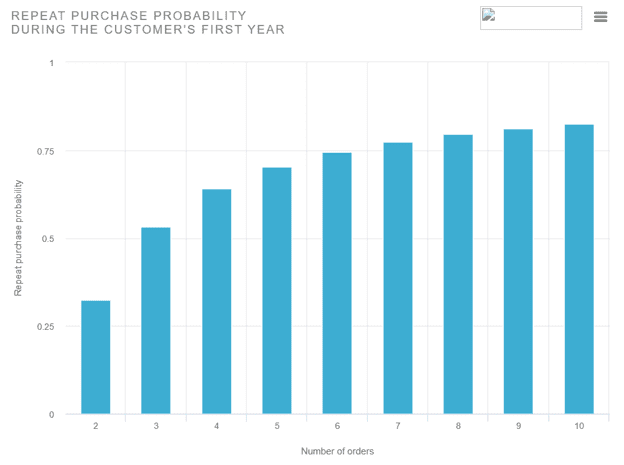 2) The Higher Your RPR, The Higher Your Average Order Value
3) The More They Buy, the Likelier They are to Become Advocates
According to Bain & Company, "on average, an apparel shopper referred three people each to an online retailer's site after their first purchase there. After ten purchases, that same shopper had referred seven people to the site. For consumer electronics and appliances, initial referrals were just over four, while total referrals after ten purchases were 13".
"Over three years, customers referred by online grocery shoppers spent an additional 75 percent of what the original shopper spent. For both electronics and apparel, this number was over 50 percent," it added.
Talk about scaling your revenue generation while reducing costs.
4) Increasing Your RPR Reduces Acquisition Costs Significantly
If customers acquire more themselves and acquire additional customers for you, your customer acquisition work becomes easier.
But it doesn't mean you can hand over your virtual Instagram keys to your best customers and go on vacation in Lapland (post-pandemic). You still need to keep acquiring new customers, but you can shift a significant portion of your attention to your star customers. As we shared before, those star customers could be worth up to 18x your average customers.
Ready to increase your ROI? Let's calculate your RPR.
How to Calculate Your RPR
Calculating your repeat purchase rate requires a few simple steps.
Discover how many customers have purchased from you in a given period.

This could be a month, a quarter, a season, a campaign's duration, or even the lifetime of your store.

Figure out how many of them purchased more than once during that period.
Divide the second stat by the first:
Number of customers who purchased more than once :
total number of customers
Multiply the result by 100.
For example, this is the calculation we'd do:
2,766 : 15,000 = 0.1844
Then, we'll multiply it by 100, and that's…
0.1844 x 100 = 18.44
Your average repeat purchase rate: 18.44%.
In other words, on average, 18.44% of your customers have bought more than once from you in the analyzed period.
Five Counterintuitive, But Efficient, Ways to Increase Your RPR
As with most goals, there are many paths you can take to achieve a higher repeat purchase rate. But here are five fun ways to increase it that we've seen work efficiently in the market. They might be counterintuitive – requiring you to give customers gifts and even pay them money – but they're worth testing.
Imagine a new customer walking into your brick and mortar store, making a purchase, and heading out. You'll probably say something along the lines of, "Hope you'll enjoy the product! Come back soon!"
You can say the same in your online store – and give some extra motivation with a reward dedicated to new customers.
When your website recognizes a first time customer, it could prompt a post-purchase landing page or popup guaranteeing a gift or store credit when they come back… as a thank you for giving your store a try.
2) Subscription Based Rewards
Even better? Pitch a subscription. When customers buy a subscription service, they're basically saying they'd like to make automated repeat purchases every month or season. Brainstorm rewards you could offer to subscribed customers that one-off customers might not have access to.
Important tip: To maintain the customer's trust, make it easy to cancel whenever the subscription no longer works for her or him.
Another way to encourage customers to come back is to… pay them some of their purchase back. With "free money" in their pocket, it'll be easier for them to check out your store for additional items. They might earn $5 back and decide to buy a $9 item – increasing their lifetime value, while getting used to buying from you more regularly.
4) Gift Cards and Store Credit
Another way to utilize the idea behind cashback rewards is to give customers gift cards and store credit as an encouragement to come back to shop. Our client, Roka, for example, sent gift cards to inactive customers, who bought their high performance sports apparel once or twice in the past, but haven't returned in quite a while.

They bulk-sent $20 gift cards to inactive customers.

Gift cards were valid for 30 days to encourage action taking.
Many inactive customerrs came back and used the gift card. But it got better.
Roka generated over $170,000 in upsell revenue.

Total campaign revenue was $226,210.
That was a total ROI of 514%.
Sometimes, customers might be willing to pay you extra in exchange for guaranteed rewards. This works especially well with membership cards. The card itself becomes a product – unlike in a subscription program, where they might get a new hair care product in the mail every month. Having the membership card guarantees rewards when they buy your other, "actual" products, like shampoo and conditioner.
Maybe it gives them discounts across your store all year long. Maybe it gives them access to special promotions, like 1+1 campaigns or store credit, that nobody else gets. Either way:
The more times the buy from you…

The more rewards they get…
The more worthwhile it becomes to keep buying from you.
You can even pair this program with a points program, and increase the rewards or store credit they can get each time they reach a new tier.
Increase Your RPR to Increase Your Bottom Line
Companies exist to make customers' lives better, whether they support their health, simplify their lives or spark joy. When companies do it well, their most passionate customers keep coming back, invite their friends to the party, and overall, become the most efficient, scalable driving force for growth.