If you're confused on whether to prioritize affiliate marketing or customer referrals, you're not alone. They're both pretty similar. Both of them focus on leveraging relationships, network and trust to grow your business, and both are relatively budget friendly strategies.
So let's compare affiliates vs. referrals, and figure out which one is best for your specific store.
Affiliate Marketing for eCommerce
Affiliate marketing is a type of business partnership between your ecommerce store and a third party seller. Usually, that seller has a built-in audience (say, they're another business or an influencer), but sometimes the seller uses ads to sell your product to additional customers.
Either way, the seller – known as an affiliate – earns a commission for every sale she makes.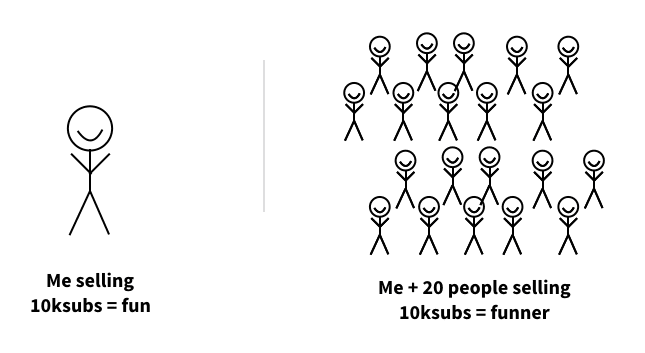 Benefits of Affiliate Marketing for Your Store
The biggest benefit of affiliate marketing is its ability to generate a large amount of customers – or at least leads – fast. Professional affiliates, those who have a large audience or a large ad budget, only find affiliate programs worthwhile when they drive in a lot of revenue for themselves too, so they're invested in helping you grow.


This investment is even stronger if you've built business partnerships with them, which you've been nurturing for a while. When both of your business objectives align long term, affiliates might just go the extra mile for you.



You could get high quality content generated for your brand by influencers who have gained the trust of hundreds of thousands of people.
Entrepreneur Pat Flynn, founder of Smart Passive Income, for example, created a variety of non-sponsored product tutorials as a non-salesy way to pitch these products to his loyal audience of upcoming entrepreneurs, and earn high affiliate commissions.
Here's a 21 minute email marketing tutorial he created – the first in a series. At the beginning of the video, which has approximately 90,000 views, he talks about what viewers will get in this series. The topics give him plenty of opportunities to plug his chosen email provider and show how easy and efficient it is to use (which he's upfront about), yet his focus is simultaneously to provide practical tips his viewers can implement.
Disadvantages of Affiliate Marketing for Your Store
The audience members don't know the affiliate personally, and often understand they're seeing an ad that was created for financial gain. This can be mitigated by high-trust influencers and businesses, but not in all cases.

If you don't pre-qualify your affiliates or work closely with them, which isn't always possible, you don't have control over which messages or brands get associated with yours. For example, you could have a customer who loves your cookies. He has a large following and happens to discover your affiliate program, so he signs up automatically and tells all his millions of followers to buy your cookies through his link. His video goes viral, and your other customers check out his videos, only to discover they're filled with racist comments. Unfortunately, not everyone in your customer base will understand your brand had nothing to do with it.

When there's a high chance for unmonitored financial gain, unfortunately, there's also a high chance for fraud. Likely, most affiliates, like most people, have good intentions, but creating anti-fraud processes can protect your company from the few who don't.
Referral Programs for eCommerce
A referral program works similarly to an affiliate program, except it's not a business partnership. Instead, it rewards individual customers, who often recommend their favorite products spontaneously, one on one, to friends and family – although they might, occasionally, post about these products on social media.
Usually, the rewards include gift cards, store credit, cash back, VIP access or additional points toward a greater reward.

Benefits of a Referral Program for Your Store
Referrals often come with a high trust level. 93% of customers go to friends and family "for trusted information about brands and services," according to

Marketing Charts

. It's easy to understand: They know these people personally, and they know these people have their best interest at heart far more than they aim to gain another few dollars. This can also work when a customer really loves your products and posts about them online.


For example, check out Nathan Apodaca, who lived in a trailer without electricity or running water (in the US), when his car battery died. He used his longboard to get to his job at a potato farm. After all, he has two daughters to provide for.
On his way to work, he filmed himself drinking Ocean Spray, while on his longboard on a highway – an "ode to Fleetwood Mac," explains The Drum – and posted it on TikTok. His non-sponsored video ended up going viral – 70+ million views type of viral. Other creators copied his video, featuring the same brand and turning it into a trend. The impact on the brand was so significant, the company gave Apodaca a new car, according to The Drum.
Of course, this might have gone viral because there was no attempt to "push" a referral link onto social media strangers. However, it's the creativity that stood out. Moreover, there are benefits for incentivizing your advocates after all.
You can pamper your advocates as they refer their friends and family, and therefore nurture your relationship with them. When we analyzed

5 top referral programs

, each one offered incentives both for the new customer and the referring advocate. It's another way to show your customers they matter and to deepen your relationship with them.

Referral program rewards often reengage a customer with the company, and encourages her to buy some extra products. Sure, some referral programs will just give customers cash back to their credit cards, but many opt for store credits or gift cards, which are known to

drive higher purchases than the value of their rewards

.
Disadvantages of a Referral Program for Your Store
A referral program takes time to build. You can say that about any program, but if you have a small customer base, it's best to go into this knowing referrals will trickle in slowly, and maybe not right away. Advocates are a small portion of many customer bases as it is. In addition, it takes time to educate customers and encourage enough of them to share why they love shopping with you. And, of course, not everyone they'll talk to will actually buy.



Here, too, you don't have control over how your brand is represented or who it's shared with. Maybe you'll end up with a bunch of referred customers who only want your deep holiday discounts, but they'll end up churning after that (

Check out this article if you want to turn holiday discounts into loyalty opportunities

).



Referral marketing isn't necessarily a consistent way to generate revenue. Over time, as your advocate base grows, you might be able to recognize annual trends or strategies that increase referrals, but your numbers might change drastically from year to year.
Affiliates vs. Referrals: How to Make the Best Choice for Your Store
As always, there isn't a one size fits all answer, but we hope these guidelines will make the "affiliates vs. referrals" choice a little easier for you.

zConsider prioritizing an affiliate program if:
You're getting started and need a large amount of customers fast.

You want to scale your customer base quickly and efficiently.
You're looking to create long term business relationships with complementary businesses.

Consider prioritizing a referral program if:
You have a high volume of satisfied customers, expressed through

high repeat purchase rate

or many praises on social media and review sites.

You get lots of referrals already, which you can scale once you start rewarding.

You prefer slower, more organic growth, so you can focus on quality customer relationships or on brand exclusivity.
True, in an ideal world you'd launch both programs, but many of us don't have the necessary resources to simultaneously nurture both programs well from scratch. Each program requires developing a business plan and marketing strategies, building relationships with their target audiences, getting efficient tools for better growth, testing data, readjusting and experimenting some more.
Therefore, get your team together, discuss your company's goals, and choose one program to start with. Once it's going well, launch the other one as well.