Free "Essential Gift Cards & Rewards" Program for Shopify merchants​
Here at Rise, we understand the complexities that such times bring to small businesses, and the importance of gift cards and store credit programs to keep merchants up and running. We would like to do our part in helping the community. 
We are trying to do a number of things to help merchants during this time. As the coronavirus starts impacting the global economy, one common suggestion for merchants is to offer gift cards to maintain cash flow. In addition, since social distancing may keep shoppers out of the physical store, it is a "must-have" for every local business to offer online gift card options. 
In the last couple of days, gift card programs became one of the most requested services by Shopify merchants – we decided to take action and make our advanced Gift Cards program an accessible asset to all Shopify merchants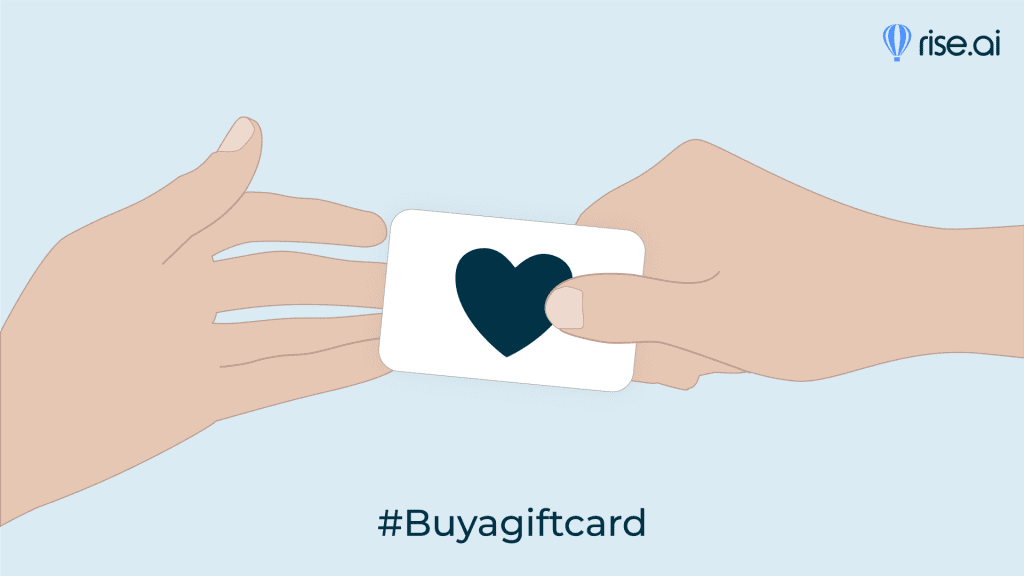 Free store credit & gift card functionality
We have decided we are extending each and every merchant a free pass to use our store credit and gift card functionality for the next 3 months (Until July 1st). Our solution includes 3 main benefits beyond the Shopify native experience:
Issue Store Credit directly to your customers – Store Credit is a very effective way to increase

customer retention, manage r

eturns and refunds and increase customer satisfaction

, helping you reflect your customers' value for your business.

Sell discounted Gift Cards, incentivizing your customers to support your small business now, when it matters the most! Ex: Sell a $100 Gift Card for $80!
Earn a spot on our global Gift Card directory! After installing the app, you will get access to join small businesses like yourself, and promote your Gift Cards through our dedicated gift card directory, and get access to many more potential customers and entrepreneurs.
Is your gift card functionality identical to Shopify Gift Card?
Not exactly, we offer a few advanced features on top of the regular Shopify Gift Cards
What is my free plan going to include?
You'll be able to Issue Store Credit, Sell discounted Gift Cards, earn a spot on our global Gift Card directory and many other management and retention features. Please take into account that currently it doesn't include the rest of our services – sending branded gift cards to recipients, store credit, rewards, and loyalty program refunds.
For how long can I have this gift card functionality for free?
 For now, we offer this until July 1st.
What will happen after the 3-months period?
Store Credit and gift cards will keep working for customers as long as you keep this freemium version. Don't worry – we won't charge you before you approve it.
What happens if I uninstall your app?
All Gift Cards will remain valid!
I'm new to this. Can you explain how gift cards can help me with sales?
Gift Cards and Store Credit can help your sales in many ways as you can see here.  Especially now, we suggest learning more about the benefit of Gift Cards During COVID-19 and how to encourage Gift Card Sales During Covid-19'.
Cool, I'm in. How do I create my Gift Card product?
Amazing! After installing the app, go to Gift Card>Set-up, choose the Gift Cards variants you want to add and a branded Gift Card image, and create your Gift Card product.
Thanks! We started to use it. How to promote your gift cards program?