It's one of those magical opportunities when brand and customer desires align, yet many companies don't turn the trend into practice, leaving plenty of room for you to stand out. It's called a personalized customer journey.
The Trend of Personalized Customer Journeys in eCommerce
Let's look at this trend from the perspective of its different stakeholders, then discuss how much room there is for you to stand out.
Retailers who "invest in advanced personalization efforts can realize upward of $20 in return for every dollar invested," reports a 2019 study by Liveclicker and the Relevancy Group.

One of the reasons is that "66% of customers expect companies to understand their needs and expectations," according to a 2020 Salesforce study.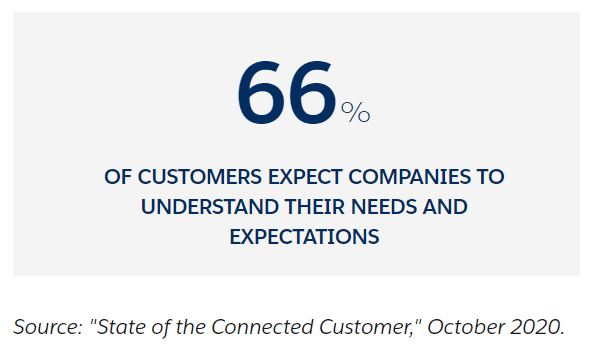 Customers want personalization. As Invesp reports, approximately half of customers…
Feel that a

personalized customer journey

makes it easier to find relevant products.

Are more likely to shop from – and return to – sites that provide personalization.
However, Invesp also reports that half of marketers don't know how to create the kind of personalization that customers love.
The Liveclicker and Relevancy Group study reveals the real opportunity in this. According to the study…
"Nearly ninety percent of retail marketers utilize personalization, but…


Most have not adopted sophisticated personalization efforts."
Those same advanced efforts that could earn them up to $20 for every $1 they invest.
So let's dig deeper, to see how you can leverage this opportunity.
What Does it Mean to Create a Personalized Customer Journey?
When you create a personalized customer journey, your customer feels almost as if your ecommerce store was created just for her.
When she logs into your site, she sees her name.

Maybe your site even recognizes her time zone, and greets her with a "good morning" or "good evening."

She's able to shop in her local or preferred language.

She's able to see shipping costs based on her specific address, or filter out products that don't ship to her region or country at all.
But it gets better, because she also…
Has easy access to products she's viewed before.

Can keep a wish list that shows up, untouched, each time she logs in.

Gets product recommendations based on her personal information, products she's bought, products she's viewed and hasn't bought, and other data the brand has about her.

Gets content recommendations to complete her shopping experience – such as a guide to creating the ideal video production studio at home, complete with tips to optimize her previous purchases and/or product recommendations she could try out.
Of course, all this requires knowing your customers and their needs well.
Three Great Ways to Get to Know Your Customers Well Enough to Personalize Their Journeys
There are many ways to get to know your customers. Following are three of our favorites, starting with the simplest.
One of the simplest ways to find out what your customers want is to ask them. Our client, Dr. Squatch, for example, offers a soap quiz that reveals the best organic, natural soap for your personality and skin type.
It asks customers 8 questions, including:
How do you like to smell? (Fresh, musky, herbal, woodsy or sweet)

If you saw Squatch in the woods, you would… (Become best bros, run, snap a selfie, give him your sandwich)

What length hair you workin' with? (Long, medium, short, shaved/bald)
Throughout the quiz, Dr. Squatch keeps things lighthearted and fun with images and GIFs. At the end of the quiz, customers can enter their email addresses to get their personalized results… plus 25% off their purchase.
Once you know your customers, it's time to segment them.
Ideally, you want every customer that logs into your ecommerce store to see products that are personalized to her specific browsing and purchasing history. But when it comes to campaigns and reward programs, creating customer segments can offer a similar experience at scale.
This is especially important if you have distinctly different buyer personas. For example, if you sell musical instruments, you might have customers who are…
Choosing their first ever instrument.

Dedicated to their music hobby.
Trying to break into the music industry.
Music pros.
Businesses that buy musical instruments in bulk.
Each of these segments has very different needs. When you segment them, you're able to communicate solutions more accurately, so that it feels personal even though you're reaching out to a large group of people.
Similarly, your customers might differ from one another in their buying habits. For example:
Some customers buy regularly – and even then, it's a different story whether they buy regularly out of need (say, if you sell groceries) or because it's fun.

Others are under-buyers who only buy when it's critical.
Some are mostly holiday shoppers, which could mean they splurge once a year… or they're looking for savings because they're buying gifts for an entire family.
Some customers buy infrequently, at undefined times, but when they do, it's a really large purchase.
This means that different customers need different kinds of attention. Among your customers, you'll find…
First time buyers.

Newly returning customers.
Long time regulars.
Advocates who continuously recommend your products to friends, family and social media followers.
Each one of them matters to your company, but in a very different way. While you want to help first time and newly returning customers fall in love with and trust your brand, so you can turn them into advocates, you want those who are already loyal to feel like complete VIPs.
Digging into all the data you've accumulated on them will help you create a personalized customer journey for them.
Dig Deeper into Your Data
The beauty of segmenting your customers is that, when you dig into each segment's data, you get a ton of information that could be relevant to customers within that segment, that neither you nor them would have otherwise known. For example:
Let's say a large percent of the segment loves a certain product – say, they buy it over and over again and leave positive reviews online – yet not everyone in the segment discovered it. Targeting the rest of the segment with ads, on-site recommendations or via email could feel like the recommendation is personal, because it's likely relevant, and therefore could increase sales.

If you recognize that certain products often get purchased together in a certain segment, recommend the second product every time a customer in this segment buys the first.

Connect your data across channels, to understand customer behaviors and preferences more holistically. Maybe they keep buying solid blouses, but secretly love your patterned designs on Instagram, and could use help finding their courage. You could send them content that teaches them how to transition to patterned fashion, or give them store credit to try out one of your patterned blouses.
A Personalized Customer Journey is Worth Your Effort
Creating personalized customer journeys isn't the easiest path to take when you're just figuring out how to do it. But once you get rolling, gain data and see the results, it becomes easier. Start with the simplest option if that's all you can do right now – as long as you get started.
As you get more joyous customer feedback and see your bottom line increase, you won't only know it was worth your effort. You'll get excited about advancing your capabilities, scaling your personalization program and truly standing out of the crowd.