Raise your hand – or look away sheepishly – if you're a last-minute gift shopper.
Don't worry if you are; you're in good company.
According to Google's analysis of shopper behavior during the 2017 holiday season, "Mobile has fundamentally changed the way holiday shoppers complete their lists.
They expect to be able to find what they want, when they want it. And that means holiday shopping is happening right before—and even after—Christmas."
Over here at Rise.ai, we analyzed the data from a wide range of stores using our platform and found similar buying behavior.
A good example of this trend was the purchasing behavior surrounding Mother's Day sales. Of all gifts that were purchased in the two weeks leading up to the occasion this year, 41% were purchased in the last four days!
It's not only holidays that bring on the last-minute shopping trend. How many times have you looked at a calendar and suddenly realized that your wedding anniversary is two days away? Or that it's the end of the school year and you didn't get anything for your child's teacher? Or that your mother-in-law's birthday is today? EEK!
Don't sit back! Your eCommerce store can come in and save the day for shoppers while simultaneously boosting your sales. 
Here are the 5 steps to follow:
1. Be aware of all last-minute shoppers gifting occasions
The public holidays are much easier to address. Who doesn't know when holiday season is approaching? Even minor holidays or public occasions, like Veterans' Day, St. Patrick's Day or Super Bowl Sunday, aren't hard.
Just set yourself up with Google Calendar for your region and you'll have a comprehensive list on hand.
Private occasions offer even more opportunities, because they aren't restricted to specific days. Birthdays, anniversaries and condolences happen every day of the year.
They are trickier, because you can't cover them with mass marketing campaigns. At the same time, that means that those celebrating also aren't being reminded by regional media coverage. and thus are all the more likely to forget or push off buying a gift until the last minute.
Private occasions that call for gifts include:
Birthdays, Anniversaries, Graduations, Births, Engagements, Weddings, Get Well Soon, Condolences, Congratulations on accomplishments
Now that you're aware of a the potential of last-minute gift shoppers and their occasions, let's see how to inspire them to buy from your store.
2. Offer eGifts and Gift Cards
The Information Super Highway delivers its parcels faster than any other physical route: land, sea or air. This isn't "same day delivery"; it's "same minute delivery".
Not all gifts, obviously, are the right medium to be transferred by bits and bytes of data. Until we hit the days of "Scotty, beam my gift up," immediate gifting of your physical products will remain a dream. To capitalize on the "immediate gift" market, keep the appropriate gifts in stock: gift cards and eGifts.
Gift cards are a widely purchased and appreciated gift. The National Retail Federation showed that: "nearly six in 10 (58.8%) consumers say they would like to receive gift cards as a gift. making this the ninth year in a row that gift cards have topped the list of most requested gift items."
Even far-in-advance shoppers report their plans to buy gift cards. For the 2018 holiday season, spending on gift cards is expected to reach $29.9 billion, up from last year's estimated $27.6 billion. Holiday shoppers plan to purchase an average of four gift cards worth approximately $49 each, according to the National Retail Federation surveyed.
But digital gift cards are a lifesaver for the last-minute gift shopper because they are easy to buy and delivered immediately. No deliberating over which would be the perfect flavor of coffee beans or the most stylish scarf – let the gift recipient decide! The shopper saves time and knows that his recipient will appreciate getting what she really wants.
In addition to gift cards, the ability to send your products as eGifts opens up a whole new world to your buyers.
Some buyers may shy away from gift cards because they seem more "impersonal".
They want to show their loved ones that they invested the time and effort to choose a personal gift – but they're not 100% sure what to get… And then time runs out. For example, if a doting aunt wanted to give one of your sports jerseys to her favorite nephew, but could never remember which was his favorite team, let alone the preferred jersey number.
She kept meaning to ask his mother, but forgot… and now his birthday is tomorrow. She could just get a gift card, but she really wanted it to be more personal.
If this doting aunt had a way to select a gift from your store and digitally send an announcement directly to her nephew announcing the gift waiting for him, that would be amazing! Time issue solved.
If the nephew was able to select what team and number jersey he wanted once he went to redeem his gift, that would be even better. Choice issue solved.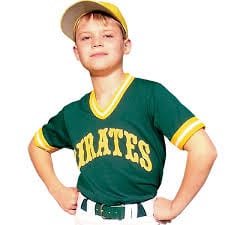 When you offer the ability to eGift your products, you open an escape hatch for those last-minute gift shoppers (and there are so many!) who preferred to put more effort into choosing a gift – and wanted to be appreciated for that.
Even though the physical gift still isn't in the recipients' hands, the gift has been given. The giver gets credit and appreciation for being on time.
3. Target last minute marketing to last minute gifters
For publicly recognized holidays and occasions, commence last-minute gifting campaigns as soon as standard shipping cutoff deadlines pass. Step your campaigns up as time passes, and as it gets more and more expensive to get a shipped physical item to your recipient on time.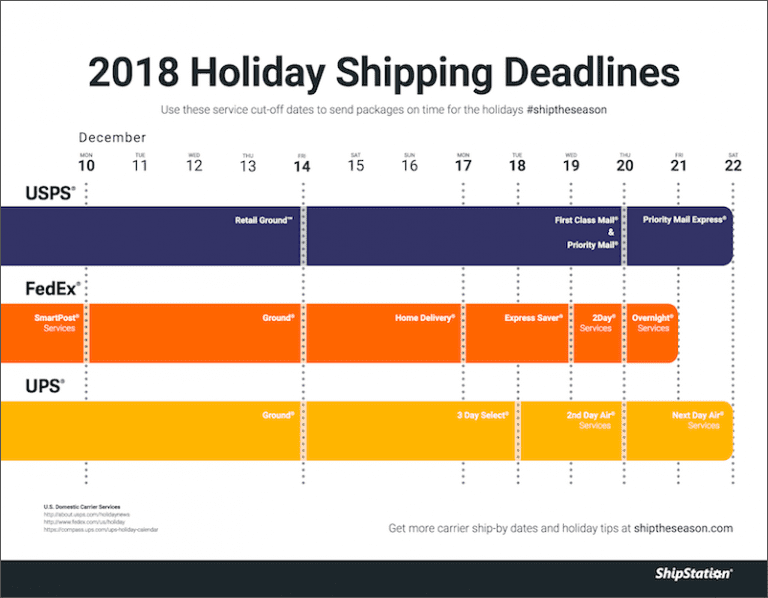 (Above infographic created by ShipStation.)
Semi-public occasions, like graduations, tend to happen around the the same time of year, although the individual dates may vary. Start campaigns as the season starts, and intensify as the season progresses.
Birthdays, anniversaries and other private occasions can occur 365 days of the year. How can you advertise for that?
Digital advertising is actually decently set up to target people who might be in the market. The most direct method might be using Google Adwords. An estimated 10K-100K searches monthly contain the words "last minute birthday gifts." Here's a sampling: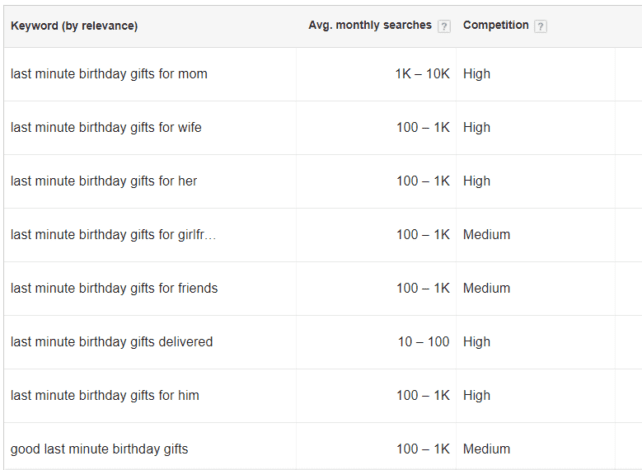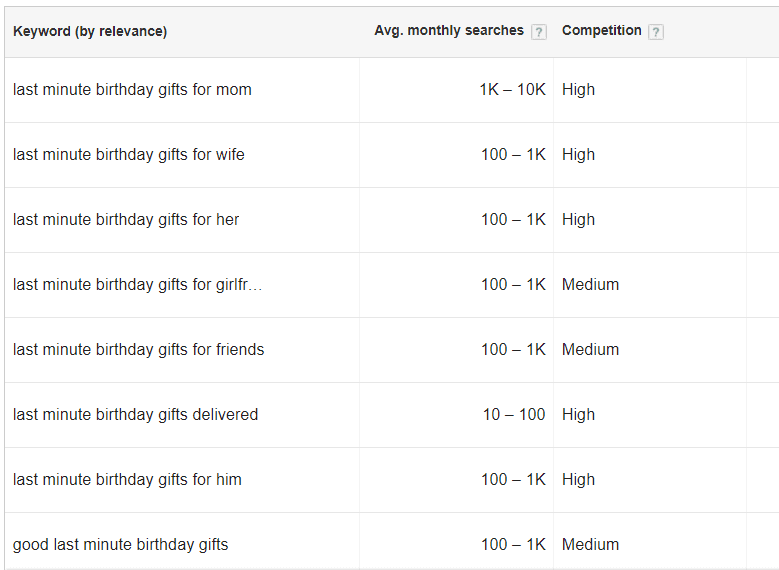 While the ad competition is listed as "High" for many of these terms, it's worth checking if that's true. When doing a sample search for the term "last minute birthday gifts for mom," only one ad showed up – and not particularly well-targeted for the search term.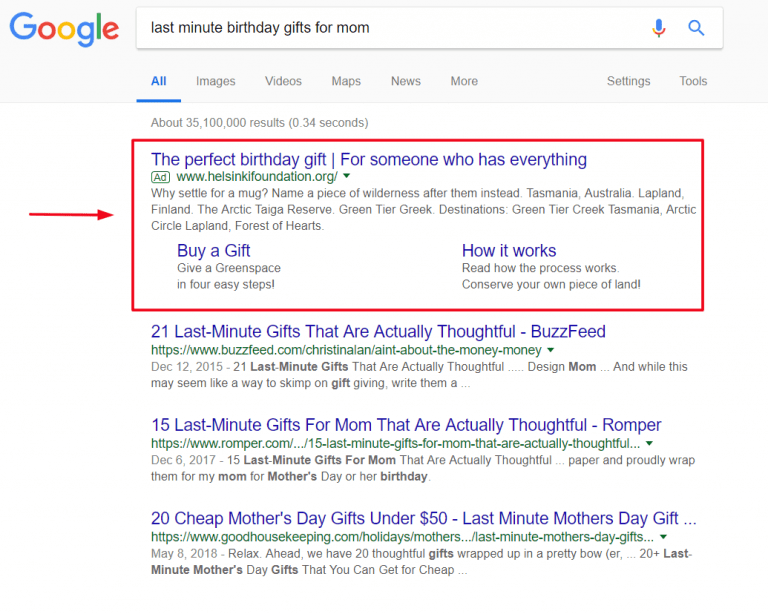 Obviously results are going to vary based on your audience's location, timing and other factors, but it's well worth running a targeted trial campaign or two for these search terms and testing if you see good results.
4. Emphasize the immediate, instantaneous delivery of your gifts
Last-minute gift shoppers are not endowed with a tremendous amount of patience when it comes to to the arrival of their purchased gifts. When shoppers consider a new purchase, they spend 13 days on average shopping for the item. But once they decide to buy, almost half expect it either the same day or the next day.
In fact, mobile searches related to "same-day shipping" have grown 120% since 2015," Google explains.
Since many of us repeatedly forget birthdays or anniversaries, and want to avoid spending the night on the couch, the option of instant gifts is critical. Gift cards can be sent and announced immediately, allowing the purchaser to avoid the dog house entirely.
In addition, there are several gift-oriented events that happen unexpectedly, like an early birth or an elopement, and instant gift cards are the perfect answer.
Last-minute gift shopping is accompanied by some amount of stress. The pressure's on to find something – the right something – fast!
Once shipping deadlines pass, last-minute gift shoppers often move to local retailers with brick-and-mortar locations. You can keep them out of the stores by giving top billing to the instantaneous delivery of your gifts and gift cards.
For example, Twisted Lily push their gift cards 48 hours before Valentine's Day, knowing that many are shopping for fragrances or skin care products, but missed the deadline to have a gift shipped. They address the issue front and center on their home page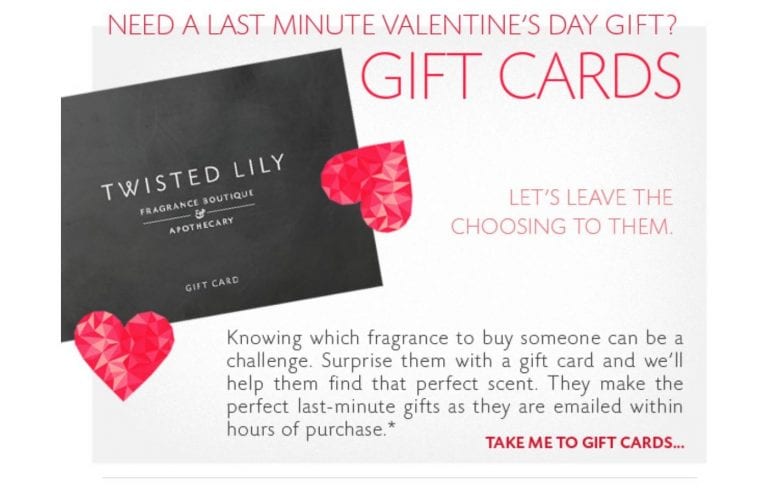 The 41% of Mother's Day gift orders we saw made to retailers using our platform were all made past the standard shipping cutoff date. But because the gift email announcement or gift card would arrive in Mom's inbox instantaneously, these online stores were prime last-minute shopping locations.
Emphasize your "same minute delivery" in your ads and on your website. It'll be even faster than Amazon's famed drone delivery promise.
5. Give customers the tools to avoid last-minute panic
"An ounce of prevention is worth a pound of cure" so famously wrote Benjamin Franklin back in 1736.
What if you could give your customers the ability to never again be scrambling to find a gift at the last minute?
You can – if you offer them the opportunity to schedule gift card or eGift deliveries in advance.
Let's say that you're part of a family of coffee connoisseurs. Imagine being able to visit an online boutique coffee roaster and schedule the sending of gift cards or eGifts for all family birthdays coming in the next three months.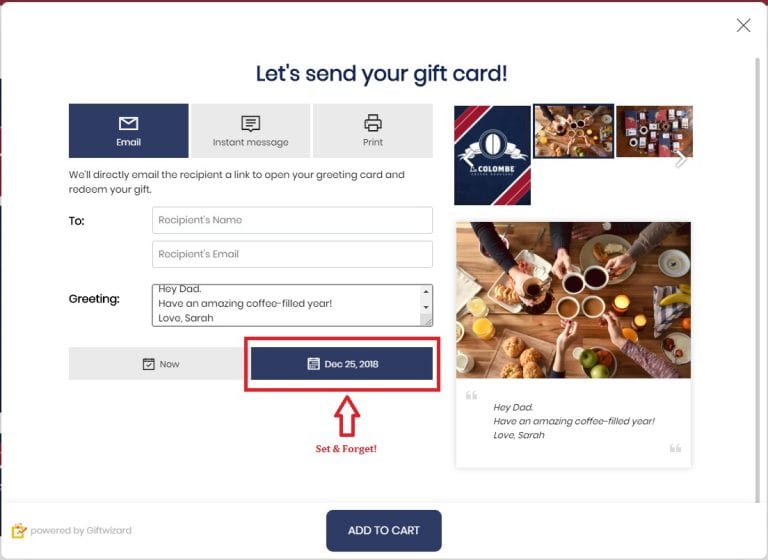 What a relief for the busy person with a zillion things on her mind (and who among us isn't like that?)! That's one less (critically important) thing to remember.
When your company moves from rescuing people from crisis to preventing them from occurring in the first place, you become a true hero.
Last-minute gift shoppers are under pressure. Give them a hand and make it easy for them to find, buy and deliver their loved ones' gifts immediately.
Whether it's digital gift cards or eGifts – you have the opportunity to help them out, and bring your eCommerce store into first place.