Honestly, for all we retailers talk about preparations for the holiday season. It's really the advertising platforms like Google and Facebook and the marketing agencies who are raking it in.
We, retailers, try all the marketing methods under the sun: Adwords, Facebook ads, Emails, Instagram ads, Reddit ads, SEO, content marketing, remarketing and cart recovery programs… you'll get exhausted long before you exhaust all the possibilities.
One underused marketing avenue that we've seen prove returns for Shopify stores is… Gift Cards.
Yes, that's right – a marketing avenue.
Gift Cards aren't just another product! You can use to increase your customer base. Learn how to use them in your Shopify store.
You just need to know how to use them.
And by the end of this article, that's exactly what you'll be able to do.
Potential customers are practically begging you to offer them
Before we get to all the ways Gift Cards can increase your customer base. It's worth mentioning that if you don't yet offer them for your Shopify store, you're almost certainly decreasing your customer base.
They want to receive Gift Cards.
The National Retail Federation's 2015 survey showed that: "nearly six in 10 (58.8%) consumers celebrating the holidays say they would like to receive Gift Cards as a gift, making this the ninth year in a row that Gift Cards have topped the list of most requested gift items."
They want to buy Gift Cards.
For the 2018 holiday season, spending on gift cards is expected to reach $29.9 billion, up from last year's estimated $27.6 billion.
Holiday shoppers plan to purchase an average of four gift cards worth approximately $49 each, according to the National Retail Federation surveyed.
They buy LOTS of Gift Cards.
Research done by CEB Global revealed that 2015 Gift Card sales in the U.S. reached $130 billion, a 6% increase from 2014.
And by the end of 2018, Gift Card sales are predicted to reach $160 billion.
(Why no one has put effort into researching consumer Gift Card habits since 2015 is beyond us.
Even sources professing "Gift Cards statistics 2017" are just quoting all the above data from 2015.
We may need to take the reins into our own hands for 2019.)
And consumers especially want Gift Cards around this time of year.
Just take a look at Google Trends: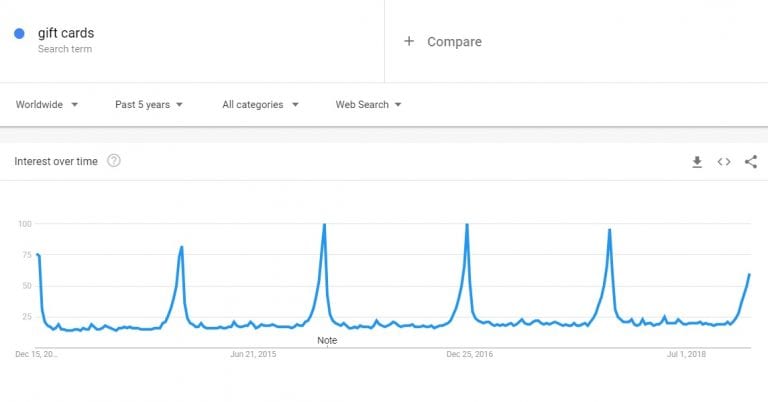 See those spikes? That's holiday season.
So if you don't have Gift Cards available for your Shopify store, you are sacrificing significant demand and a tremendous opportunity.
Gift Cards as the ideal gift
Once you have your Gift Cards, present them on-site as the ideal gift: personal and always appreciated by the recipient.
After all, if you gift your loved one with a specific item, she'll know you put thought into it, but she may not always like the gift. ("Oh, no. It's brown. I hate brown. How do I get out of wearing it/hanging it/using it/displaying it?")
If the giver chooses a generic Gift Card (think Amazon), then in all likelihood the recipient will get an item she's happy with, but she may wish you had invested more in the gift selection process.
Retailer-specific Gift Cards cover all the bases. They're focused and specific, yet simultaneously allow for freedom to choose a gift that fits the recipient. Often you can enhance the personal feeling by customizing the e-card or announcement that is sent with the card.
How to make it happen
Emphasize and encourage personalization in your cards.
Consumers appreciate personalization, as Marketing Charts' Survey found: "53% of shoppers surveyed believe that retailers who personalize their shopping experience provide a valuable service."
Your Gift Card is already personal because it comes from your unique store with your unique brand, culture, and products.
But you can make it even-better feeling for your customers… and their recipients.
Here's how:
This is the Gift Card page of the weighted blanket for sleep, stress and anxiety –Gravity Blanket.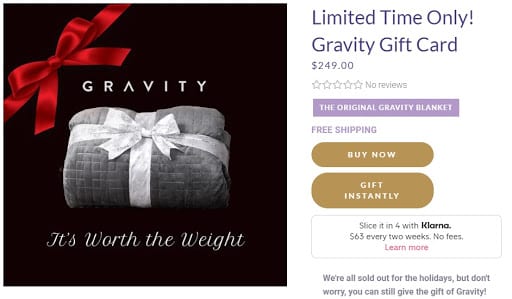 Click the "Gift Instantly" button, and you're taken to a page where you can personalize the Gift Card announcement email that will be sent to the Recipient.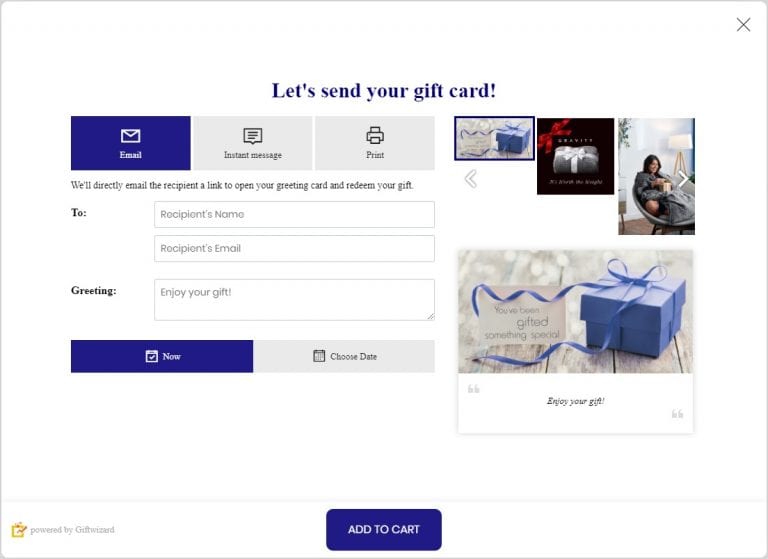 Fill in the fields, and you can see the preview.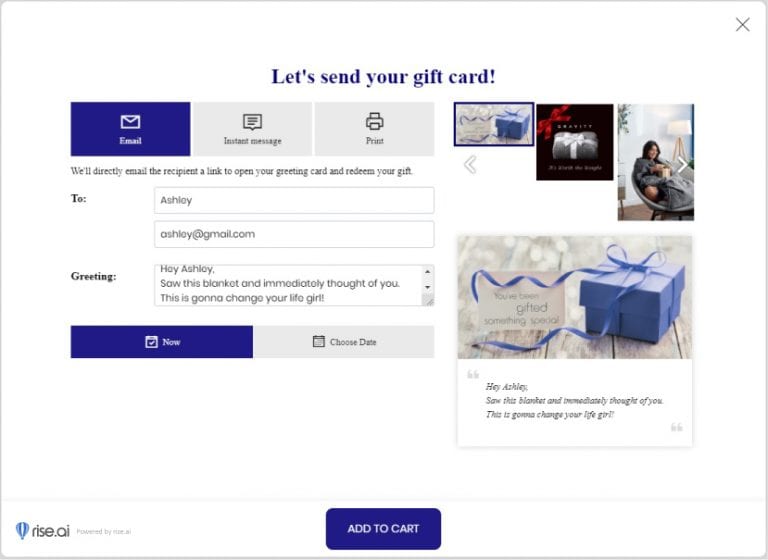 This looks thoughtful and personal, no?
But you can do even better.
If you can upload your own picture for the card, why not upload one of the zillions of photos your friend has posted on Facebook and Instagram? Surely Ashley has gotten some press, and maybe even with a blanket?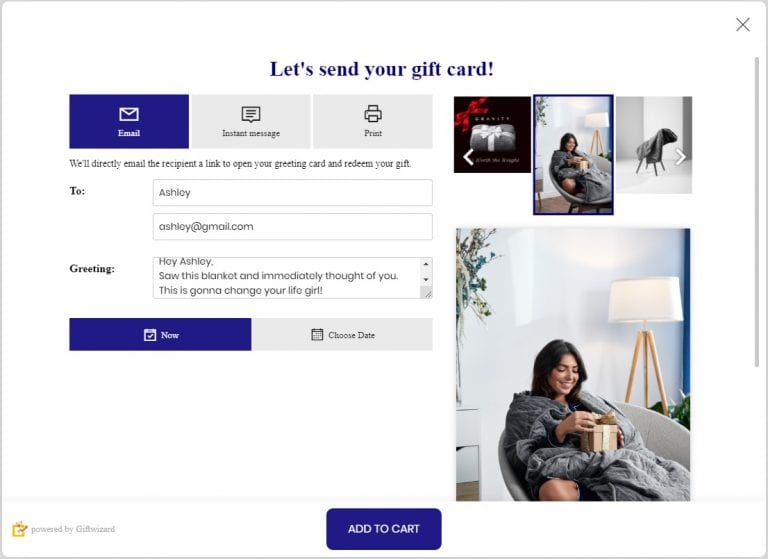 WAY more personal. WAY.
Give your customers the opportunity to personalize the Gift Cards they buy to the next degree.
Mention that as a feature of your Gift Cards in your sales copy: your recipient will get exactly what she wants while appreciating the effort you put in to make it just for her. All bases covered.
Gift Cards expand your customer base
By way of your Gift Card, your customer just introduced the recipient to you.
Now it's time for you to get to know each other.
Gift Cards are great for "Getting to know you, getting to know all about you…"
When the recipient has to peruse your site to select his gift, he earns a deeper awareness of your product selection than if he had just received a gift from your store.
"Getting to like you, getting to hope you like me…"
Just getting a Gift Card with its "free money" already gives the recipient positive emotions toward your store.
Build upon that by providing a good experience.
If the experience is good enough, they're likely to return as customers.
And sometimes you don't even need to wait that long, because the recipient will spend over the amount of the Gift Card.
Respondents of a survey by First Data reported that Gift Card recipients spent an average of $23.41 beyond the original value of the Gift Cards they received.
Even if it's less than that, it's still a win.
Says CBS: "Even if consumers manage to spend just a few dollars over, those dollars translate to millions in profits, company-wide.
And customers who come in just a few dollars under the card's value are enticed to come back for a repeat visit, where they will surely need to spend more to exhaust the leftover funds on the card."
How to make it happen
Help your recipients get to know you – and like you – right off the bat.
Identify visitors coming from the link on the Gift Card email and give them a tailored experience on their landing page. A personalized page would be amazing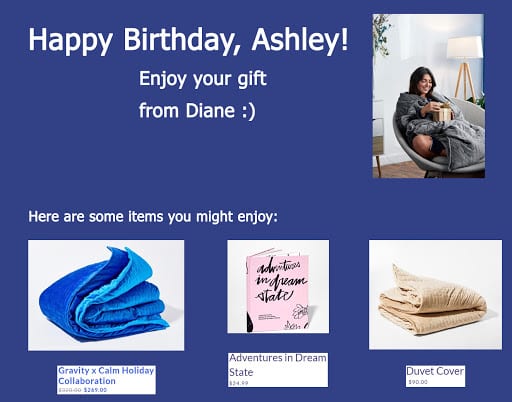 (Note: This isn't a real page and we actually have no idea which items are the most popular at Gravity Blanket.
We just wanted to illustrate the idea, so we took a few that looked kinda cute.)
Even if you can't swing that, at least have a welcome page acknowledging that they got here because of a gift, and give some guidance as to what's available in your store.
Gift Cards to elevate brand awareness
As we just mentioned above, a branded Gift Card is not only a product that you sell, but it is a valuable introduction to a new potential customer.
They may not have been aware your store existed; now they are.
Even if they knew you existed, they may not have known the extent of what you offer; now they do.
Next time they need something that you sell, you might be on their list of places to search.
But don't leave that to chance.
Use helpful emails to stay in touch, increase brand awareness and keep top-of-mind.
The most natural emails to send your gift recipient are reminders about the balance they have on their gift card.
If they don't purchase a gift right away – or if they do but still have money left on their card – you can remind them every so often about the purchase potential they have waiting.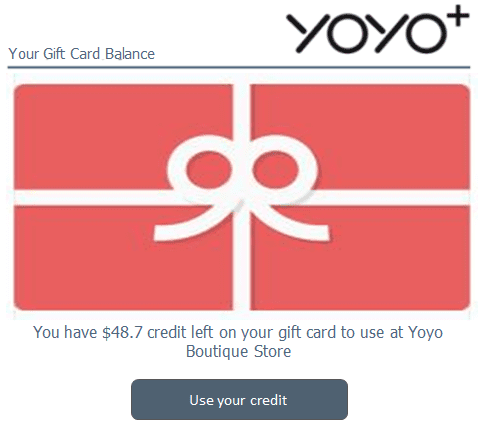 Use these emails to express your brand's personality.
Also use them to showcase items they might like, based on their prior purchases or the items they've viewed in your store.
Don't be pushy, but make sure you maintain a presence in their inbox… and you'll maintain a presence in their mind.
How to make it happen
Set up and send those reminder emails.
Automate the process as much as possible so it runs without your involvement.
Keep your visual branding and your "voice" consistent throughout the emails.
You're making them aware of your brand, of who you are.
Make sure that comes across clearly.
Bulk Gift Cards as a magnet for old, dormant customers or potential customers
Customer category #1: Oldies but goodies = customers who bought from you long ago and continue to buy from you until this day.
Customer category #2: Oldies but stale-ies = customers who bought from you long ago and are still on your email list but haven't purchased anything from you in quite some time.
Customer category #3: Lurkers = those potential customers who sign up to your email list and sit there like bumps on a log.
They may, on occasion, click through to your site, but they never actually purchase anything.
Gift Cards can move customers from category #2 and category #3 to category #1.
Specifically: low value, bulk campaign Gift Cards.
Email campaigns that target segments of your list which haven't purchased in a while – or never purchased – and send them a complementary low-value Gift Card (say, $10) are powerful.
They remind stagnant customers about your existence, inspire positive emotions associated with your brand, and give them a reason to go to your site (and buy).
As mentioned above from the First Data study, they will often end up adding more to the order so the $10 you give away can bring in significantly more revenue.
Alien Outfitters had tens of thousands of subscribers on their email list, but discounts and coupons weren't bringing in the sale numbers they were hoping for.
So they decided to try a bulk Gift Card campaign.
They sent thousands of $10 Gift Cards to subscribers based on behavioral and statistical triggers.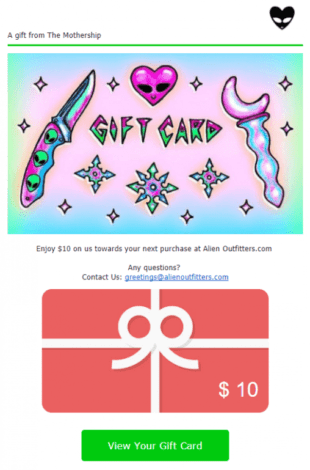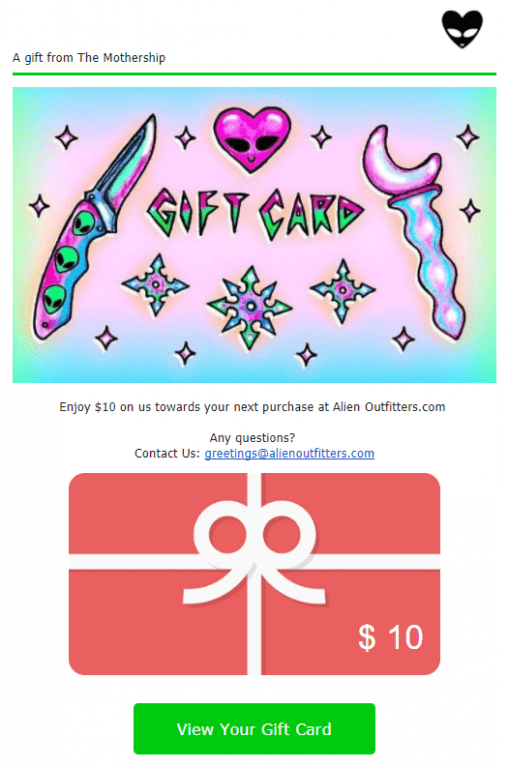 The campaign drove incredible engagement from the audience – 15.8% CTR, compared to 0.8% in previous campaigns and a large amount of enthusiastic 'Thank you' emails.
Even better: most people who activated a $10 Gift Card bought $50-100 products, generating a 264% return on Alien Outfitters' investment.
Purchases directly attributed to Gift Cards accounted for 18.9% of the store's revenue during the campaign.
This strategy can also work to increase your email list by giving low-value Gift Cards to new signups.
While that wasn't the main thrust of Alien Outfitters' campaign, it still had that effect: their email list grew by nearly 5% during the campaign.
How to make it happen
Use a Gift Card service provider that enables bulk card campaigns.
Do your targeting wisely.
Choose subject lines carefully.
If you have a large number of subscribers like Alien Outfitter, it's probably a good idea to do some A/B testing of your subject lines to see what gets a better open rate/engagement rate before you send the campaign to all of your targets.
If you want to increase your email list by giving cards to new sign-ups, publicize the offer as much as possible.
Encourage your email list to share.
Share on social media – both organically and through paid promotion – and place an exit pop-up with the offer on your site.
A great rewards program means everyone wins
Gift Cards can be sources of incredibly valuable marketing data.
The reason behind why people send gifts to each other can inform you about the relationship between them and the special events that are meaningful in their lives.
If you collect and store that data effectively, you can use it later to do smart marketing to either party.
As an example, imagine that on March 22nd, Zack sends his cousin Danny a Gift Card for his birthday.
Next year, a week before March 22nd, you can send an email to Zack along the lines of "It's Danny's birthday – maybe he'd like one of these!" and make some suggestions (especially if you keep track of which product Danny eventually bought with his original Gift Card).
Or you could send an email to Danny on March 22nd itself: "It's your birthday, Danny – we're sending you a $10 Gift Card! Have a great day, buddy!"
That's one-on-one marketing, but you can also use the data to discover the demographics and product preferences of new audiences (the Gift Card recipients) and use that to form marketing audiences you build and campaigns you run on platforms like Adwords and Facebook.
How to make it happen
Find a Gift Card provider that stores this valuable demographic/ relationship/ event data and makes sense of it.
Harness the data and insights to power automated, event-triggered, email marketing campaigns.
The BlackHawk Network is one major ecommerce player that offers eGift Card solutions, including analytics and the ability to send custom email campaigns.
Our Shopify app Rise.ai also uses the comprehensive purchase and demographic information collected to power smart marketing through email and other platforms.
Use the recipient email data to create custom and lookalike audiences on Facebook.
This is an audience that your Gift Card buyers are pointing out as an ideal audience for you, and you may not be marketing directly to them yet.
Gift Cards as purchase incentives
If you offer the ability to purchase Gift Cards at a discount (for example, pay $85 for a $100 value card), you instantly increase their appeal.
Gifters will jump at the chance to give a larger gift than they could afford (at a price they can afford).
Companies will prefer to purchase discounted cards for their employees.
And your customers may even buy cards for themselves so they can get more purchase bang for their buck.
How to make it happen
Sell discounted Gift Cards, either individually or in packages.
A "Buy 4 Gift Cards, Get 1 Free" package from a maternity store would be great for those young adults whose friends just keep having babies… you know there's going to be another baby coming along soon, so you might as well have the Gift Card on hand, especially if you can save on it that way.
Give bonus cards, or, as e-Gift Card provider Cashstar calls it, a "give-one-get-one initiative".
An offer to "buy a $100 Gift Card for your friend and get a free $10 Gift Card for yourself" is a double incentive.
The buyer is more motivated to purchase the Gift Card for their friend – and they'll come back to buy at your store, likely spending more than the $10 on their Gift Card.

Here's an example of how "SureFit" used BOGO to boost their sales.
Gift Cards as loyalty rewards
Rewarding your customers for their loyalty is a win-win-win situation.
They win because they got a treat; you win because their loyalty is now that much stronger, and you also win because they may share the experience and give you some free PR.
Sending low-value Gift Cards to customers who match a certain purchase pattern is a great loyalty reward… that can often result in more purchases! Set up automatic triggers: when a customer spends X or makes Y number of purchases within a certain time frame, they're automatically emailed a thank you note with a Gift Card.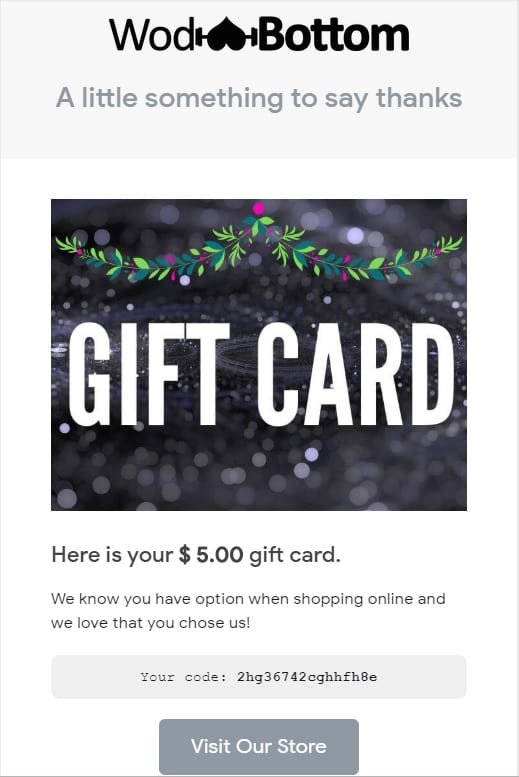 If you want to get the most power out of these rewards, don't let your customers know in advance that you have this policy.
As marketer John Jantsch advises, " If you want to create an insane level of customer loyalty, simply tap into the power of surprise.
Make unexpected surprises a routine part of how you serve your customers, and they'll spread the love by sharing the fact that you exceeded their expectations."
How to make it happen
Decide what the trigger(s) will be to give a customer a frequent purchaser status.
Set up automated emails to deliver Gift Cards as loyalty rewards.
Make it clear that it's a gift – use images of wrapped gifts, balloons, confetti and supporting text – so your customers truly appreciate it.
Gift Cards are more than a product; they're a powerful marketing tool
The marketing power of Gift Cards can increase your customer base and profits, both directly and indirectly.
Givers introduce your Shopify store to new customer audiences.
Personalization can create positive experiences that your recipients want to repeat and share with their circles.
Surprise low-value Gift Cards can increase loyalty and word-of-mouth marketing among repeat customers, or awaken dormant customers.
Invaluable data can inform audience targeting and marketing campaigns.
You just have to know how to do it. And now you do.
"Gift Card" searches are ramping up in Google. Don't waste time.
Go harness the marketing power of your Gift Cards.
Yair Miron is the co-founder and CEO of Rise.ai, an online gifting solution which empowers retailers to harness the hidden power of gifting to dynamically expand their customer base and increase their revenue.
Rise.ai has created the top data-driven gifting apps in Shopify.