After the frantic rush of the holidays. Thanksgiving, BlackFriday, CyberMonday, Hanukkah, Christmas, Kwanzaa, NewYear's, the lull after the holidays can feel like you're in hibernation.
You might have the chance to catch up on z's, which is great.
On the other hand, when you're not sleeping, you need to eat.
You've finished all the leftover turkey and eggnog, and your store sales are in the biggest lull of the year. Not great.
This is the time to discover and unleash new purchase-increasing tactics for your store. To do so, we'll have to dust off some of our old holiday favorites: Cashback, Loyalty Cards, Rewards & Gift Cards!
1. Extend a Helping Hand by Offering Loyalty card benefits
After the holidays is never the time that your bank balance is at an all-time high.
This is the time when not-ordinarily-frugal people slip into coupon clipping frenzies, vendors notwithstanding.
Wouldn't you like the ability to purchase $100 worth of your favorite products and receive $50 as cashback?
We're betting your customers would also, so why not help them out? Do something like this: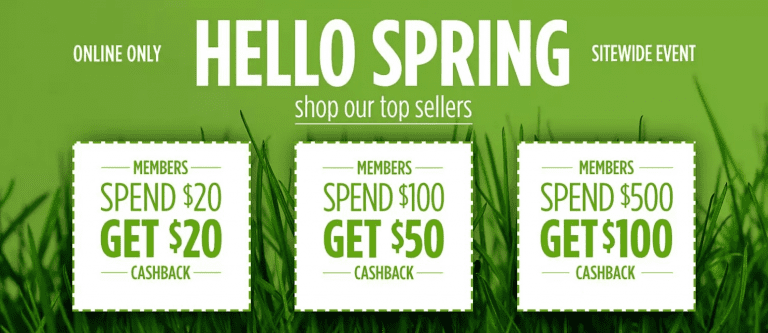 This is a nice offer to make to your store's loyalty card customers, the ones who would be purchasing if they had a reason to come back.
Send an email along the lines of:
"We know you might be a little low on cash after all that holiday shopping (we sure are!). So here's your chance to save on your favorite products…"
Your customers will generally not only spend the initial amount, but so much more.
2. Stay in Touch and Remind Customers of Their Stored-Value Cards
Probably, some of your Gift Cards and Cashback were given as holiday presents or rewards. Some recipients will have checked out your store and made their purchase immediately.
Others will have been too busy decorating, shopping and cooking.
For the latter group, send periodic reminders about their remaining balance.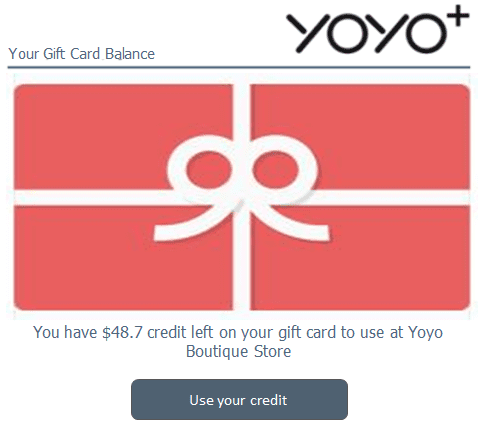 Although the card itself was paid for already, the CARD Act prevents you from counting it as profit until it's redeemed. It behooves you to encourage your customers to redeem it as soon as possible.
Additionally, customers tend to spend over the price of the Card they have.
Respondents of a survey by First Data reported that Stored-Value Card recipients spent an average of $23.41 beyond the original value of the Cards they received.
That's unaccounted for post-holiday income, which will be welcome in January. Send those reminders and watch your sales jump.
3. Onboard Your Gift Recipients (and Purchasers)
Even once your gift recipients have used their Gift Card and completed a purchase, they're still in "getting to know you" phase.
They're seeing if they like your merchandise, your service and your vibe. You're seeing if they're going to become one of your store's valuable customers.
While we hope your merchandise speaks for itself, you can also use Gift Cards to give both of these target audiences a nudge in the right direction.
Ecommerce expert, Drew Sanocki, tells how he took a bankrupt apparel company, Karmaloop, to over one million dollars in profits in one year.
The key, he says, was identifying the behavior patterns of valuable customers. Then taking actions to encourage more customers to fall into that pattern.
It's the most cost-effective type of marketing because it focuses your efforts at the point of greatest impact.
In Karmaloop's case, Drew found that their most valuable customer segment made a second purchase within 30 days of their first purchase.
The new marketing strategy? Don't give any purchase incentives for the first 30 days following the first purchase. But if a first-time customer crosses the 30-day line without a second purchase, then start giving progressively bigger purchase incentives.
Karmaloop used discounts as purchase incentives. Low value or discounted Rewards might work even better for your store.
4. Match between the Target Customer to the Incentives
Target loyal customers:
your MVPs (most valuable purchasers) buy items every month. Give them a pack of five low-value Gift Cards. The first redeemable in January, the second in February, and so on.
your MVPs buy big-ticket items. Offer them a $100 Cashback for $500 on their loyalty card. If they have their eyes on a $500 item but they were hedging, this might be enough to push them over.
Target specific seasons: back-to-school season deserves Cashback incentives for college students. They need everything from school supplies to futon covers, and they need it all in August.
Target parents of college kids and send low-value Gift Cards to encourage purchases. Keep in mind that 72% of Gift Card receivers purchase more than the value of the card.
Comb your data and identify the behavior that sets your MVPs, college kids, or whomever you're targeting.
Then set up automated email campaigns using low-value Gift Cards or Rewards to guide your customers' behavior in the MVP direction.
Post-holidays isn't only a low time for Online retailers. The rest of the world is also feeling the let-down.
Use a low-value Gift Card bulk campaign to surprise and delight your customers. By that you will encourage them to treat themselves.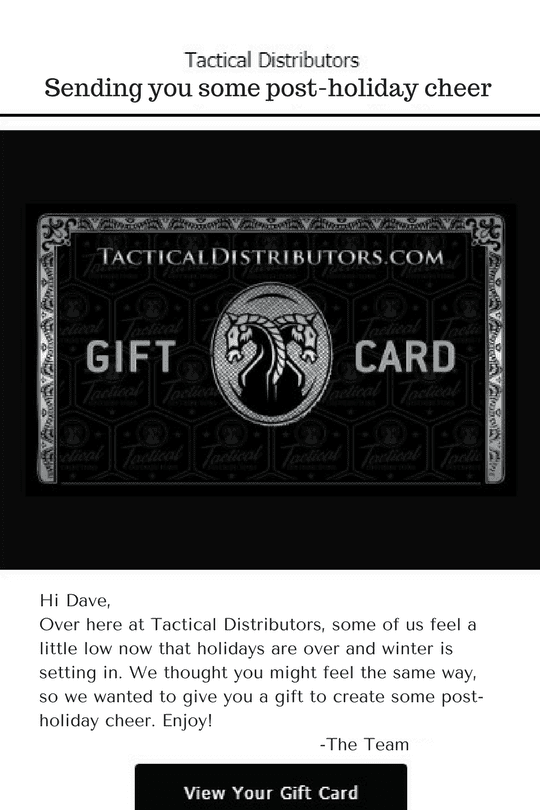 You could also reach out approaching Valentine's Day.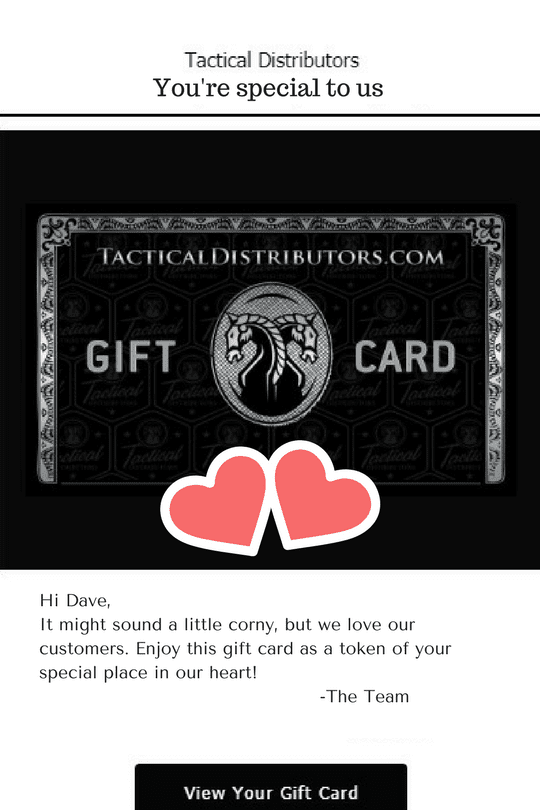 When you show love, love will be returned. And often, it will be love that far exceeds the value you sent.
5. Gift Cards are the ideal thank you
Were you ever blown away by a beautiful holiday gift that came out of nowhere? Someone you hadn't considered yourself particularly close to surprising you with a thoughtful, well-executed present?
After the initial euphoria of "Wow! I feel so special!" dies down. The niggling feeling of "I didn't get them anything…" often moves in to replace it.
You want to do more than just say "thank you". But what?
You're not the only one who feels that way.
Most people in that situation are left with the slightly unsettling feeling that they should be doing something to express their appreciation.
That's where you come in.
Promote your store's Gift Cards as an ideal way for someone to scratch that itch and convey his thanks for such an unexpected holiday gift.
So Get Over The January Sales Hurdle
Let Stored-Value hoist you out of the low season rut. Just because it's the low season for retailers, doesn't mean it needs to be the low season for you.
By using loyalty Cards in creative and unexpected ways, you can boost the post-holiday doldrums of your customers. And boost your bottom line.